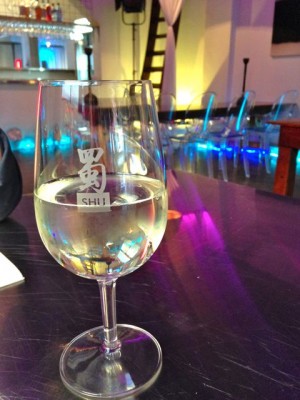 Just off the food lovers mile of Smith Street is the delightful Shu restaurant. From the mass 'Spoon Planet' in the window to the coat hanger light fixtures and test tube connector chopstick holders, the brains behind Shu are eccentric, intricate and extremely clever!
Owner and chef Shu has created an intimate space to come and enjoy the flavours of his childhood, as Sichuan meets Collingwood, Shu restaurant uses seasonal and local produce to create a degustation that is both an adventure and comfort, as if you have been invited into their home for dinner.
Shu isn't classically trained, the recipes are classic Sichuan learnt from his mother and translated and updated to work with Melbourne's best produce. There is no menu, Shu and the team will create a set price degustation for you based on your food preferences and the daily hoard of vegetables, meat and fish. Our host Rebecca shared a few stories of how Shu will look at the days selection and then work through a menu of up to sixteen dishes for the evening including little palate cleansers and refreshing salads and larger dishes packed full of chilli and Sichuan spice.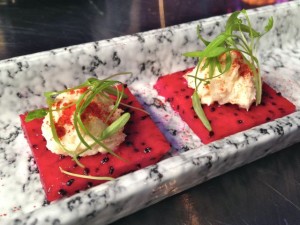 The first little bite is stunning presentation of dragon fruit with perfectly fresh dressed crab and a little herb. Just perfection!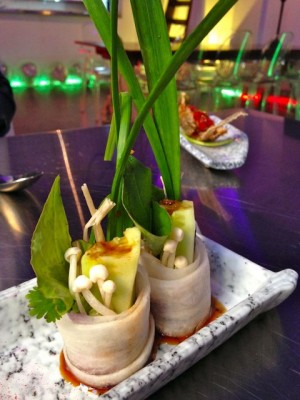 Next is a couple of bites – daikon wrapped around fresh cucumber, mushroom, herbs and a lovely tangy dressing – such a beautiful presentation it is almost sad to eat it!!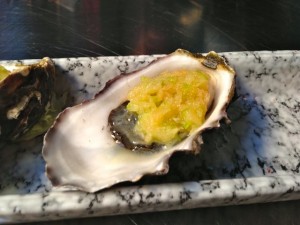 Dish three is a incredibly fresh, perfectly shucked – no nasty shell shards – oyster and an apple dressing. I'll be honest I don't think I had ever had apple with oyster but it works so well. So far we are feeling incredibly spoilt and super healthy!!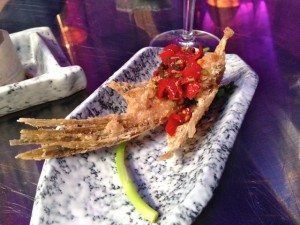 Dish four is a fried fish cheek with gills and all and a super delish chilli relish. No chopsticks for this one, pick it up and suck out that gorgeous, succulent fish cheek meat!! Loved this!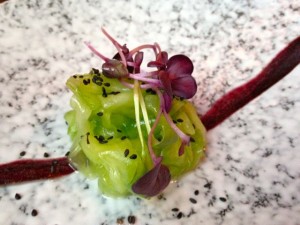 A little delicate cucumber salad with wafer this purple carrots, black sesame and little purple herbs – it's a work of art! And it tastes beautiful, a perfect post chilli relish refresh!!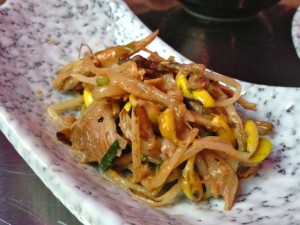 Dish five is a little chicken noodle salad with bean sprouts and corn – just gorgeous, so much rich flavour in such a little mouthful!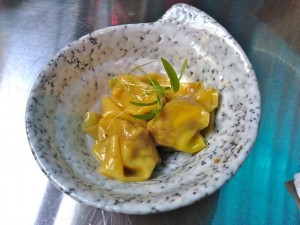 Dish six and we are still comfortable – the dishes are just small serves of each so that you can go on a culinary adventure without feeling horribly full and bloated! Two little fresh and floppy dumplings, so very thin and with a mouthful of gorgeous, fragrant filling.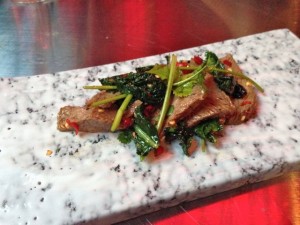 Dish seven is the Sichuan beef, this baby comes with a kick and I love it!! Melt in the mouth beef with a lip tingly spice and herbs. I can understand if you have a lower tolerance for heat that this might be a confronting dish but for me this was that perfect balance where you get that heat and then it settles to a nice buzz without going so far as to blast your head off!!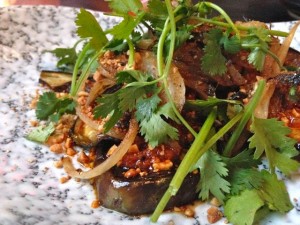 Dish eight is such a beauty!! I love eggplant when it is done well, none of that soaked in cups of oil, just let the eggplant speak!! The eggplant salad with nuts and herbs was beautifully simple but you know it was an intricate thought process that brought these perfect flavours together onto this gorgeous plate. The cupboard with all the plates in Shu must be an absolute treasure trove, we have had a different bowl and plate for each dish and they are all selected especially to present perfectly.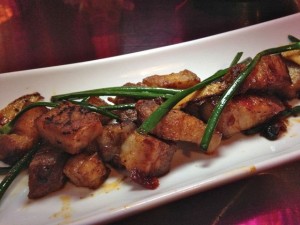 Dish nine is the pork belly – need I say more? This is cooked incredibly well, with no fatty chewy parts, all rendered down to make that pork still moist but the naughty bits all crispy! Lots of flavour and to be honest I could just have this and a bowl of rice at home and I would be happy, happy, happy!!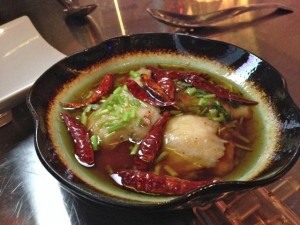 Wow – we are on dish ten and I am overwhelmed how good this meal is, I love that you don't have to pick from a menu, only have a couple of dishes and probably over order to try out a few more! This is a great opportunity to explore lots of different dishes mouthful by mouthful. So the dish is a gorgeous chilli packed poached fish, hubby wasn't as keen on this one and I think it comes down to texture, the fish is poached so gently it is really soft and smooth and with spicy gorgeous broth I really liked this one. I loved that it comes in its little pot with heaps of little chillis floating around!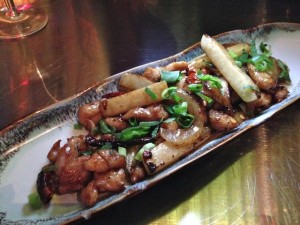 Dish eleven and twelve were spicy potatoes and a lovely chicken and kohlrabi stir fry with spring onions and a delish mix of flavours that means there is nothing left on the plate! Lovely!!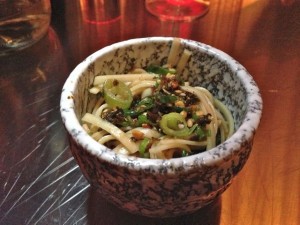 Thirteen is a little pot of refreshing soba noodles with a little spicy dressing, again something I would love in a big bowl for lunch – any chance of delivering Shu!??! A great way to finish off a fantastic dinner … unless you think you might like dessert!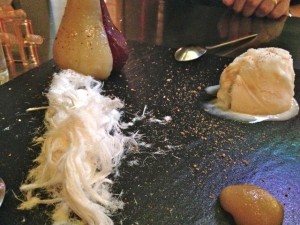 Poached pears two ways with floss, local honey and ice cream served on a beautiful black slate…. honestly this is stunning, light and fresh and so many beautiful flavours – a perfect way to end a night!
I am surprised at the negativity coming through Urbanspoon for Shu, I read a lot of the comments before we went and was confused at the experience we had vs the criticism from previous customers. A lot of comments about the decoration… I think it's great for a place to have such personality and interest – it doesn't have to be all white table cloths and buddha heads!! If you don't like the idea of not having a specific menu and dish to pick from – then don't come here and complain about it, the guys will cater for most including veggie, vegan and coeliacs. If you don't like spicy food then let Rebecca and Shu know and they can cater for you – though you are missing out so toughen up!! I like the guys, I like the decor and I love the food! Maybe pay them a visit and decide yourself!