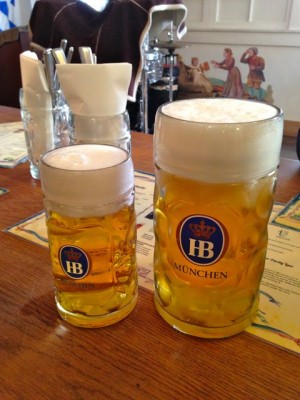 Oh for a little spot serving good beer and a schnitzel! Hofbräuhaus has been around for a while, after being gutted in a fire several years ago the new beer hall is double the size and double the fun! The downstairs bar offers all the beers you need including the hefty 1 litre glass tankards, a great idea unless you cannot drink that much beer in a relatively short time as it gets pretty heavy and warm! I prefer a more delicate Mango Weizen – A fruity and refreshing mix of Weizen and fresh mango juice!!
There are then restaurants upstairs and next door offering comfy, heavy wooden benches and tables and even better a little entertainment from the traditional Oom-pah band. The menu is solid – pork knuckles, sausages, schnitzels and and sauerkraut! Heaven!!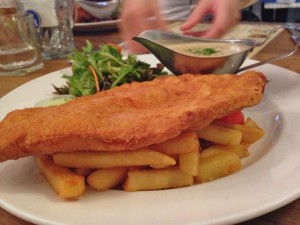 Sensational! Gorgeous, generous and the most amazing mushroom sauce. Choose your own adventure or schnitzel – Viennese style freshly crumbed marinated chicken served with salad, chips your choose your style. Creamy Forest Mushroom sauce, Chunky capsicum, tomato and onion sauce or Swiss with smoked leg ham, tomato and gratinated Swiss cheese.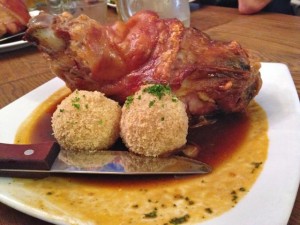 The Schweinshaxn – Bavarian Pickled Roasted Pork Knuckle on a bed of Sauerkraut served with house-made Potato Dumplings and House Bier jus. Hubby was pretty happy after dismantling this one!! It's a man sized hunk of succulent, fall apart meat!
Check out the menu for more, it is a veritable list of Euro fun. Don't forget to book ahead for the HB Schnitzel Challenge $75 OR FREE!!!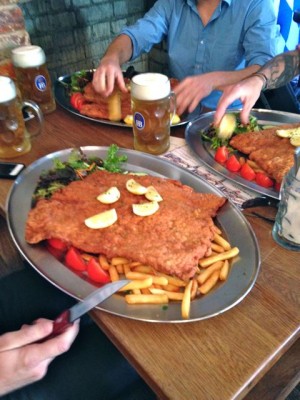 The Rules:
1.5kg Pork Schnitzel, bowl of chips and a litre of any HB tap beer.
To be consumed in its entirety within 45 minutes.
Only ONE person per meal. ABSOLUTELY NO SHARING!!!
If the competitor is successful then they will receive their meal and drink for free. They will also receive a "Schnitzel Challenge Winner" T-shirt.
Extra bonus – Any time a winner is seen wearing their T-shirt in the establishment they will receive ONE free 300ml HB tap beer.
The guys next to us didn't stand a chance! It's no easy challenge and that is a whole lotta beer and chicken! But a bargain anyway for $75!!