So lucky to have the lovely SugarCane just around the corner and delivering delicious Pad Thai, Fish cakes and red duck curry. With BYO it is a great option to take friends and family for a great dinner that leaves everyone smiling when the bill comes!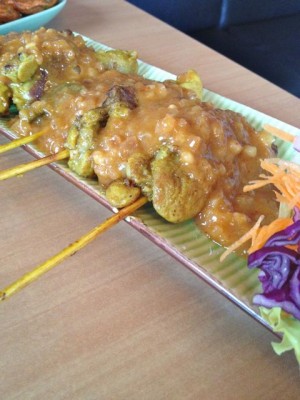 This is one of those places where you just want to order everything, especially all of the entrees! Sometimes I do!! I had a good go tonight and with their generous portions I clearly over ordered for two!! The satay is one of their best dishes, charred chicken in a creamy, chunky nutty sauce! Soooo good!!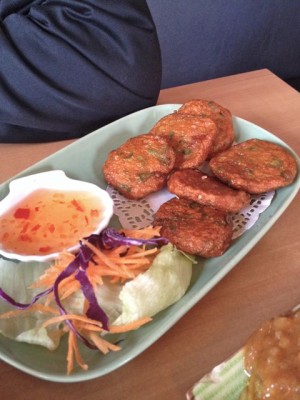 Hubbys fave the fishcakes are light, packed with flavour and good quality fish, amazing dipping sauce and fighting over the last one!!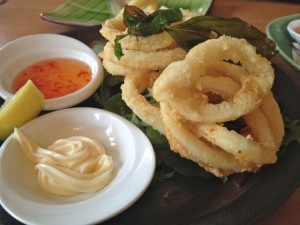 Oh the calamari – so very good! Perfectly crisp, no grease and thick kewpie and sweet chilli sauce to dip – oh I could smash that right now!!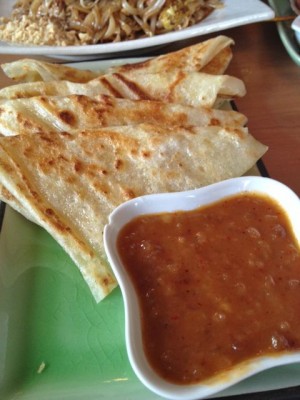 Roti and satay sauce gets a special mention, that sauce OMG!!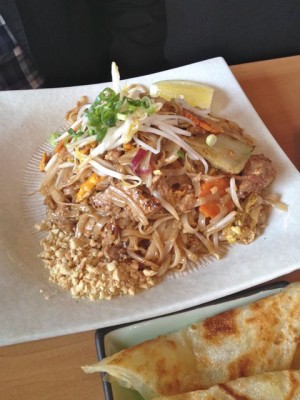 The pad thai is one of my favourites in Melbourne. Perfect balance of sweet, sour and spice – delish!!
Rolled home to lie down but it was all so delicious and worth it!!
************************************************************************
Last published 21st August 2011
It's been a while since we visited our local thai, Sugarcane has been on Park Street for a long time and with a few changes in management we are back to see how it's all going!
The menu is big! There are plenty of great entrees, curries, stir fries and salads, we are all big on sharing so we decide to get a nice spread of nibbles to go with our lovely Brown Brothers Chenin Blanc.
The King Prawn Rolls are so good! The long crispy parcels of prawn are quickly consumed, crispy tails and all!!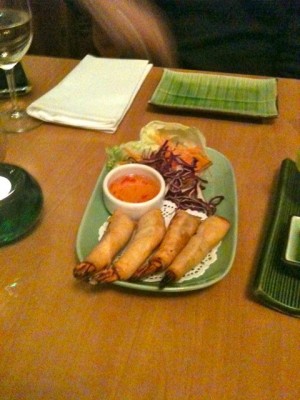 The fish cakes are just fabulous, the texture is spongy and firm with blended fish, green beans, red curry paste and lime leaf the flavours are punchy and work well.
All the dishes are served on different colourful plates with fresh salads and great dipping sauces, we are all double dipping without any shame! They are so delicious!
The chicken satay is some seriously generous skewered thigh fillet, it's a man size satay topped with a fantastic satay sauce, I once bought a jar of satay sauce and all it tasted of was vinegar and sucked! This was definitely homemade and so good we made sure we got an extra serve with the lovely roti bread.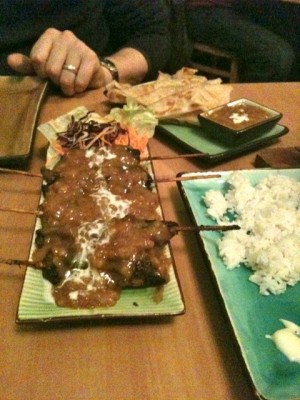 So we have pretty much ordered most of the entrees! and there are no regrets!! The duck spring rolls are packed full of roasted duck, shitake mushrooms wrapped in golden pastry.
The salt and chilli squid wasn't my favourite dish but the steamed chicken and vegetable dumplings with side of seaweed salad and ginger sauce looked a bit pale on the dish but they tasted really lovely, infact when we divided up the left overs I was quick to grab the last one!!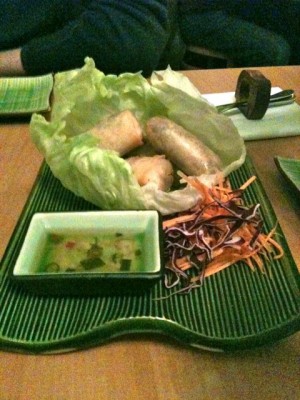 The Mystic Mussaman for 'main' is shared between us all with steamed rice and it is full of potato, onion, carrot and peanuts with slithers of really good beef that melts into the mild and sweet curry – it is a winner!!
The wine is great, the staff are lovely and we've had a really nice night, we will be back again very soon!