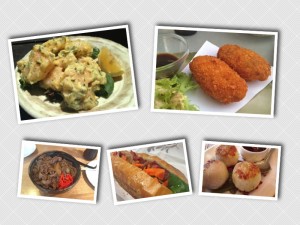 My top five fave foods around Melbourne, dishes that we know and love and go back for time and time again! They aren't fancy or expensive but they are fabulous!!
No. 1 – Ebi Mayo at Itchi Ni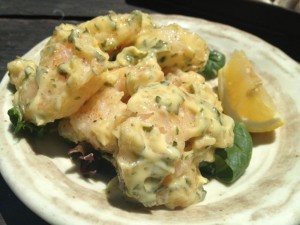 For those who know about these little beauties they will happily admit to just ordering a bottle wine and four serves of these (my mouth is watering at I type this list – help!!). Imagine, super fresh prawns in the thinnest, crispy batter and then gentle slathered in a light, wasabi mayo……………. OMG!! They are soooo good! Order a little Rose, sit back on the desk and watch the sun set. Life is good!! And if you haven't over indulged on the Ebi Mayo try the chocolate spring rolls – devilishly good!
No. 2 – Taro Dumplings at Cookie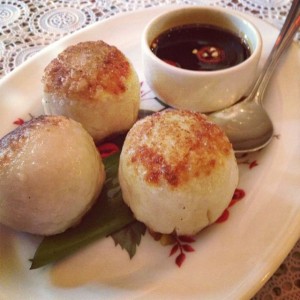 Cookie is an insitution! We have been dropping by for 8 years now and it hasn't changed! There may be a few more lipstick kisses on the wall but the staff, food and beverages remain consistently superb! AND the Taro Dumplings are my most favourite dish in Melbourne, many a time we have walked past and had to pop in for a Duval and some dumplings.
So the taro dumplings, not on the everyday menu and I don't think I have ever had them anywhere else before! For those of you not familiar with the nobble root vegginess of the taro, it is an Asian starchy vegetable and is bright white inside. It can be used as taro chips or boiled and pureed and put into fluffy dumpling pillows and pan fried like at Cookie!!
Served with a to die for chilli sauce, just incredible!! Might have to pop down this week for a beer and taro fix!!
No. 3 – Banh Mi – N Lee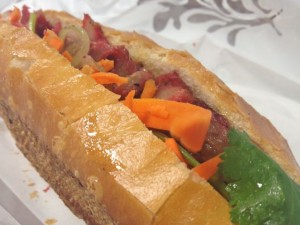 I unashamedly like a little fast food! Burgers, dumplings and pasties and all those over the top saturated handfuls of loveliness on the move!! The Banh Mi takes it to a whole new elevel, you could try and claim it is a bit healthier than the average food on the move but it's probably not! Now Banh Mi lovers will understand the importance of the layering of this 'sandwich' to create the glorious mouthfuls of punchy flavours. Step 1 – get yourself a fresh, crusty, French Style half baguette and slice open ready to stuff! Step 2 – now this is where all others fall down! Pate, you need a slather of pate on the bread to get you started! Then ther is the pink tinged roasted pork, plentiful slices of glorious flavour! In there you also need coriander, crunchy shredded carrot and chilli and there you go! There are no tables here, you get in the queue, you order and you get out, take your delicious bagette packed with scrumptiousness and find a spot to make some serious food noises!
So excited they are coming to South Melbourne.
No. 4 – Gyudon at Ajisen Ramen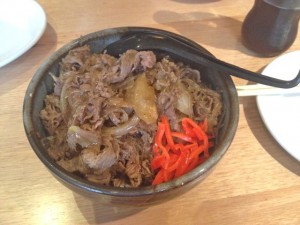 Simple classic, lots of wafer thin beef, vermichelli in gravy and rice – doesn't get any better, jsut a big bowl of hearty, tasty fun!
No. 5 – Crab croquettes – Naked Japan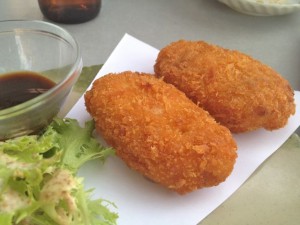 Now this one is right near my hairdresser so we cross paths quite often but I could go elsewhere if it wasn't soooo good!! It's tiny, in the summer the number of seats double with the outisde space butthey will take reservations, it's BYO and the food is bloody amazing!! Again another one that over the years has stayed true, no flashy make over, no big new menu and no staff uniforms! There are probably four dishes that we justhave to order each time, it's like an addiction! The spring rolls are these flakey pastry tubes, not like the super crunchy fried ones we are all know, these seem almost healthy! And inside are mushrooms and prawns and so tasty! The gyoza rock, the little meatballs just amazing BUT we are talking Creamy Crab Croquette! Imagine the creamiest of mash with crab generously blended in and then gently moulded into breaded bundles and fried to perfect crispness………… oh I want, I want!!