Big fan of Social Glutton, great space, great coffee and a fabulous menu that never fails to delight.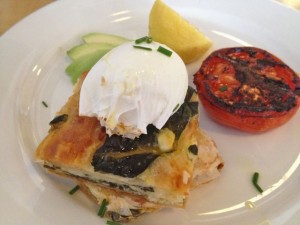 Today we had the Mediterranean Breakfast – poached egg on spinach and feta pastry with slow roasted tomato and wedge of lemon.
Perfection! The oozy poached egg with the spinach and feta pastry was divine!
We'll be back soon!
***************************************************************
Last visited 5th September 2013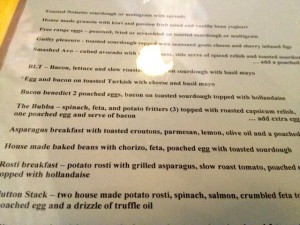 Back again and feeling hungry!! There is a long list of temptation but I can't go past The Bubba! Feta, spinach and potato fritters with a perfect poached egg, bacon and beetroot relish!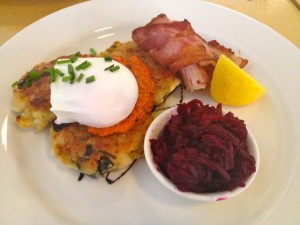 Sensational!! My friends baked eggs looked damn good too! We were warned there was a bit of a wait on food, which seemed a bit odd as the tables weren't full but when passing the kitchen to go to the loo and hearing the profanities coming out of there I can see there were a few issues that day!! Fortunately you couldn't tell from the gorgeous food being served!!
*******************************************************************
Last visited April 24th 2013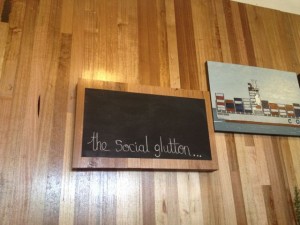 New kid on the block The Social Glutton is bringing a comfortable little spot to enjoy coffee and a spot of breakie, lunch or brunch!
Service is friendly, the fit out is welcoming and the coffee is good!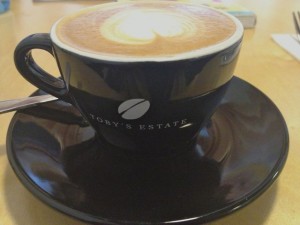 The lunch menu is backed up by the goodies at the counter, with the Glutton Slider jumping on the current trend to deliver pulled sticky pork on a toasted sourdough but Social Glutton is bringing spiced relish, gravy reduction and purple mustard coleslaw yum! However I go for the Asparagus Salad.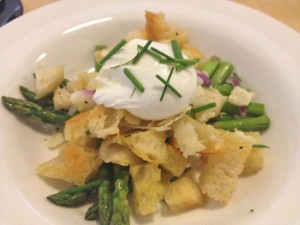 With toasted croutons, parmesan, lemon, olive oil and a perfectly poached egg this is my perfect flavour combo. Generous, fresh and flavourful it felt like it was missing some leaves or something but it was fab!
Another great new spot for Hawthorn – Foodies rejoice!