Could cause a serious rift here but today I am sharing with everyone my mate Mark's Top Secret Lamb Shanks recipe. He has made this for us many times and it is the ultimate slow cooked comfort food!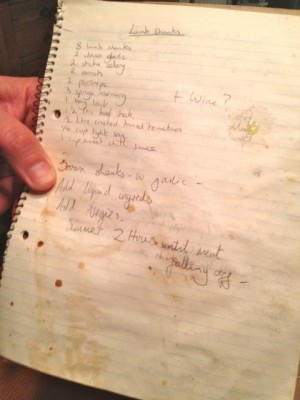 Don't you love hand written, food spattered recipes!! Show just how often this one is pulled out on a wintery day!
For those that can't quite read between the tomato sauce drops the recipe;
Serves 8 – generously, just half everything for four people!!
8 lamb shanks
2 cloves of garlic
2 sticks of celery
2 parsnips
3 springs of rosemary
1 bay leaf
1 1/2 litres of beef stock
1/2 litre of crushed plum tomatoes (tinned is fine!)
1/4 cup of light soy sauce
1 cup of sweet chilli sauce
Method:
Brown Shanks in pan with crushed garlic
Add the liquid ingredients
Add chopped veg and herbs
Simmer for 2 hours or until meat is falling of bone
Serve with mash and wilted asparagus
Pour glass of red and sigh with happiness!