Love the quote from the website;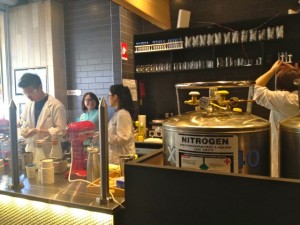 Such fun! Men in white coats and goggles whisking up smokey gelatos in their heavy duty Kitchen Aids (Red – nice choice!). Freshly whipped just for you the lab brings science and dessert to new frontiers!
My first memory of gelato was of Mum buying me a multi-coloured mountain on a cone from a Mr Whippy's van and getting a blue fluorescent tongue and sticky hands afterwards. My gelato journey has come a long way since then. From watching Heston Blumenthal turn a grilled cheese toastie into ice-cream, sampling from every gelateria I stumbled across in Italy to queueing up in Hong Kong and New York to try their versions of liquid nitrogen ice cream.
Apparently when freshly made and eaten gelato requires no nasty preservatives etc so if you are good with liquid nitrogen in your 'cooking' then you are all set to go! I still have a confused face when it comes to pouring something so 'dangerous' on my food!! But everyone is doing it so we should be right!!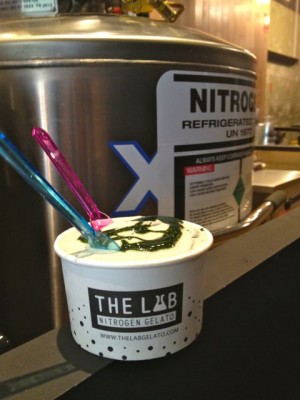 Flavours include Raspberry and nutella tart, Black Sesame with green tea sauce, milky chocolate and mango with lychee – OH YESS!!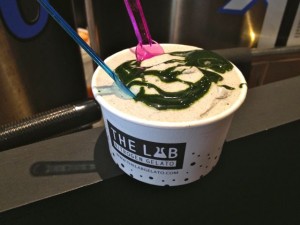 I am a sucker for black sesame and this is one of my favourites! So soft and creamy – way to easy to eat…. when I could fight off my hubby!!
This is entertaining and delicous! Get some!!