Love a good local and Lamaros is that lovely balance of a good local pub whilst still being a rather lovely place to relax with a great bar menu and wine list.
There is an interesting crowd in there, the boundaries between South Melbourne and Albert Park means the older, slightly better off gentlemen hanging out over a beer can sometimes make it appear like a bit of an old boys club early on in the day but as they disappear into the night and the families start coming in it is a great spot for a beer and burger!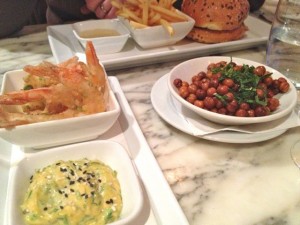 The staff are always lovely, polite, friendly and will often provide table service when you are too lazy to go to the bar! The food has always been really good, a legendary burger, amazing croquettes, arancini and an ever changing menu with the seasons to keep it interesting! We order the crumbed gorgonzola stuffed olives and Wasabi Crusted Prawns with 'Kewpified Wakame' I know Kewpie well and this was a new take on it!! We were not disappointed – SO AMAZING – I want the recipe!! The prawns were to die for! All cute and crunchy in their shells and with that sauce – heaven!!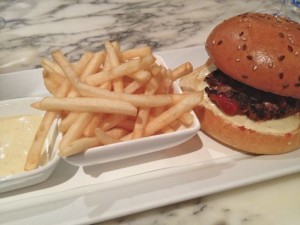 Cheeseburger, Pickle, Dijon, Fries – $17 Do it!! I was tempted with the reuben but I knew I would get total burger envy if everyone else was getting one! It was so good! Great meaty patty with heaps of flavour, zingy mustard and shoestring fries that you cannot stop eating!
If you are nearby and you need a smile, beer and a damn fine burger…. Get yourself here!!
**************************************************************************************
Last visited 20th April 2013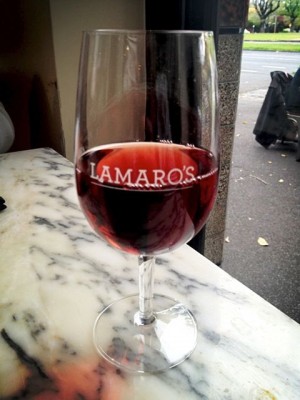 On a lazy Sunday afternoon there are much worse places to be than at a table in Lamaro's Bar.  The restaurant seems to be full of happy families enjoying wonderful food and having a great time.  The bar has a similar vibe and a bit of live music happening and a fantastic small bites menu.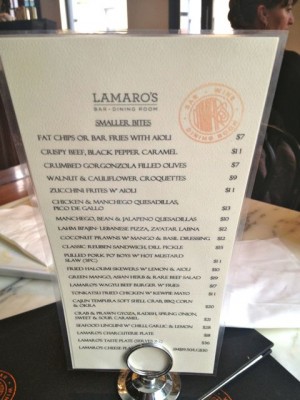 Mouth watering tapas with croquettes,  fat chips, coconut prawns and bigger bites with quesadillas, pizzas and pulled pork poh boys.  That kind of menu that you know you will have to come back because there is too much good stuff to try on the menu!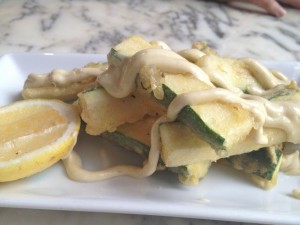 Zucchini frites with aioli – wasn't sure but glad we took a punt, there were delicious! The zucchini keeps a good bit of bite and the batter was light and not greasy.  Rich aioli… pretty good!!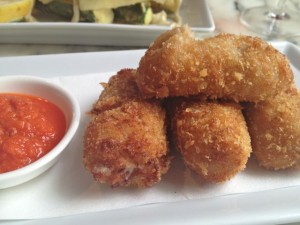 Walnut and Cauliflower Croquettes…. OMG!! You the sign of a good croquette is that super crispy thin shell and then a perfectly creamy centre that is ooooozy and luscious… The walnut and cauliflower flavour combo was fabulous! All reasonably priced and generous portions here!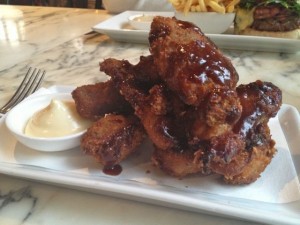 Tonkatsu fried chicken with kewpie mayo – naughty but seriously nice!! Super crunchy, packed with flavour, drizzling of bbq sauce and damn good chicken! They seemed to be a perfect bite of succulent chicken on the bone, infact falling off the bone – surprisingly good! Not surprising for Lamaros but surprising that such small peices of chicken can be packed with so much meat!
And the finale! Wagyu Beef Burger and fries! I am glad we shared because it is a big boy burger! A heafty patty packed with flavour, bacon, cheese, salad – an excellent example of how a burger should be!
Lamaros is one of those places I forget to go to more often but they remain consistently good, friendly staff, nice atmos and most important really good food!
****************************************************************************************
Previously published 14th April 2011
Good wine, good company and great food at Lamaros Sth Melb. Service great and the best chorizo arancini.