Long over due to drop in to The Grain Store and see what the fuss is all about! Quickly knocking Chin Chin off the Urbanspoon number one spot for most popular, Grain Store has opened in the not so cool area of town and is cooking up a storm. With a twenty minute waiting list for breakfast on a Saturday it had better be worth it…. and it really is!
The staff are exceptional, they know exactly what they are doing, what needs to happen and when, hence they can efficiently turn the tables for the ever growing queue outside. Backed with a kitchen that must be operating with military precision and a genius menu this is a winning combination to make the busiest breakie spot in Melbourne still a pleasure to visit.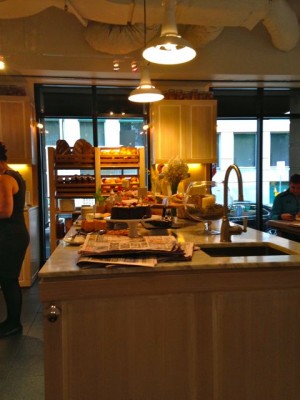 Despite being loud and bustling there is a homeliness to the Grain Store that I loved, the central display counter with flowers, papers, cakes and breads is perfectly styled and feels like family… ok I am dithering – Food!
The menu is fab, I have a real problem with brunch being a very expensive dish of eggs and toast – I can do basic math and they don't generally cost the $50 we end up spending! But this is a menu with dishes nearer the $20 and they totally sound worth it!
Buerre Bosc Pear & belgian chocolate brioche with walnut praline ricotta, Apple, buckwheat & ricotta pancakes with orange nutella, spiced mascarpone and pistachio streusel. Portobello mushroom & raclette potato rosti with poached eggs and hazelnut hollandaise! Crazy good produce and flavour combinations! It's like someone finally sat up and went "Why is breakfast so boring?!"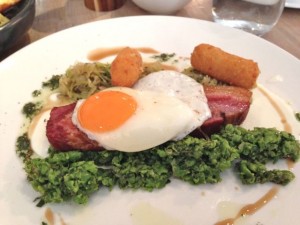 The bacon steak with smoked jalapeno cheese croquette with sunny side egg, pea salsa, whipped goats feta and apple balsamic – it's a work of art! Super salty bacon steak with the most amazing little croquettes – F.A.B! I like that the eggs are all decided for you in the dishes, no choice this is chefs decision and he is spot on!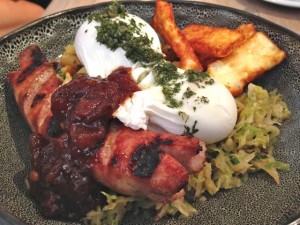 Chilli and fennel sausage with vanilla parsnip, poached egg, savoy cabbage, pear and cumquat chutney and a side of crispy halloumi….. how did you get that halloumi so sweet and crispy? Best ever…! Sausage is so good! Vanilla parsnip is delish and that chutney – to quote hubby "It taste like christmas!!".
I completely understand why Grain Store has captured Melbourne's foodies, it is a perfect example of the right menu, the right staff, right kitchen – perfection!
Can't wait to come back for that brioche!