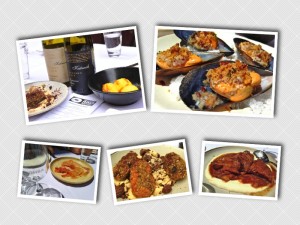 Take a pinch of Melbourne weather, add a splash of Katnook wines, a serve of Bomba Food and a dollop of Opera Australia performances and you have a very special way to spend a Sunday afternoon.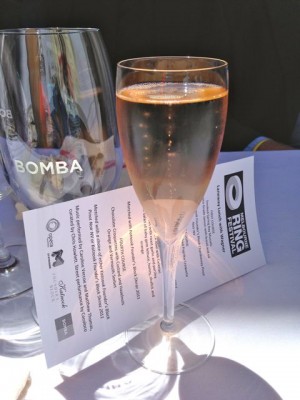 For the next few weeks those in the know can enjoy a few hours in the sunshine (hopefully) enjoying some sensational wine, food and a touch of Wagner! Not something you see everyday in the CBD and we certainly attracted people's attention when the lovely guys began performing.
So wines – it's not Sunday afternoon without them! Katnook Estate from Coonawarra is a long time favourite since we were lucky enough to visit last year. My favourite then was the Founder's Block Sparkling Chardonnay Pinot Noir NV and we are lucky enough to start with this today. Teamed with Bomba's sensational Serrano Grade jamon and amazing Spring Bay mussels. Smiles all around!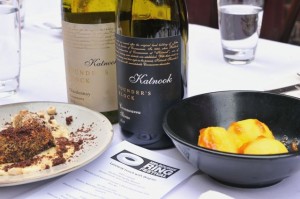 (Photo Credit – 2013 Jim Lee Photo)
Moving onto the Founder's Block Chardonnay and I have found a new favourite! This is sensational! I think there was hugging of the glass at one point!! Matched with Bomba's chicken, manchego and smoked paprika croqueta and a little glass of intense and lovely gazpacho – what could get any better?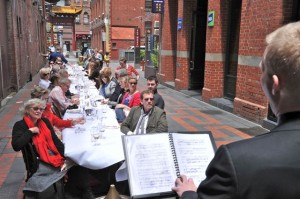 (Photo Credit – 2013 Jim Lee Photo)
How about a touch of Wagner?! Completely mesmerising, it's been a while since I caught a touch of opera and I have completely forgotten how entrancing it can be. Combined with the best food and wine and I think you might want to grab a ticket for the next one (detail below)!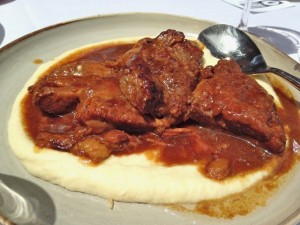 Bomba continues to please with PX Braised Pork Jowl, Valencian Salad and the most amazing crispy roast potatoes with a massive slug of roasted garlic and a parsley sauce – these are most definitely naughty and very, very nice! We have hit the reds with Katnook's Founder's Block Shiraz and it is a beauty.
Moving on there are more stunning performances and some other unique entertainment that you will have to see for yourself!! It's a thoroughly enjoyable afternoon and even the threat of rain doesn't stop anyone from having a great time!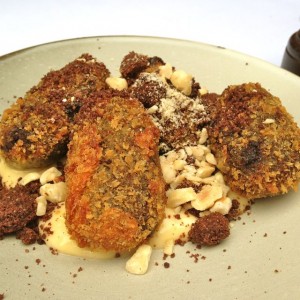 The finale from Bomba are the chocolate croquettes with custard and hazelnuts ………. OMG! I am not a dessert person but this has converted me! Words cannot express how much I am in love with these!! A cheeky vermouth and orange sorbet to cleanse the palette and that's what we call Sunday!
The Opera Australia Laneway lunches are running until 8th December
Cohen Place, Melbourne (between Lonsdale and Little Bourke Streets)
Sunday 24 November; 1, 8 December at 12 noon (2 hours)
$130 per person; includes four courses, wine and performance
Click here for booking enquiries
Find out more about Katnook Estate wines here
To read more about Bomba check out our recent visit click here