Several months on and Paco Y Lola is still going strong. Serving up Mexican delights to the South Melbourne Market crowd. We visited when they had first opened and it was fabulous but it feels like they have really settled in now and it was such a great lunch!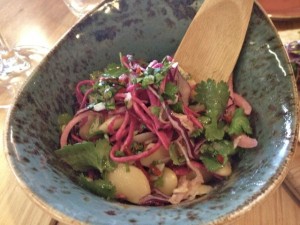 The lima bean salad with fresh coriander, chilli, red onions and lime is just a pleasure to enjoy, the good thing at Pacos is you can get lots of little bowls and sample all the different flavours rather than only being able to pick one of two larger dishes. It's Mexican tapas!!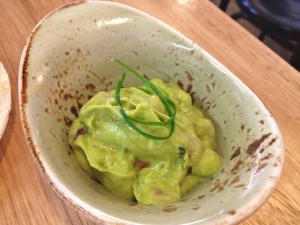 Sensational guacamole, zingy green avocado creamed with lime and tomato and coriander – just perfect!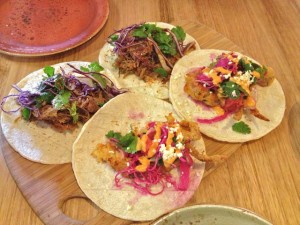 Tacos time! So hard to pick but the soft shell crab ones are monumental!! Served with citrus salad, guac and fresco – you cannot beat these babies!! Slow cooked brisket with chilli moron, red cabbage and Xaxaca cheese. Sooooo very good!!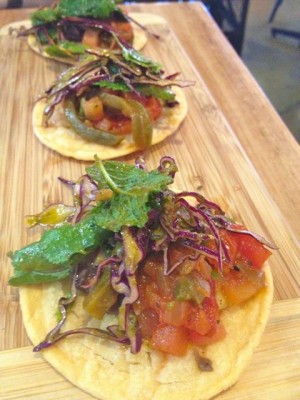 Cactus Tostadas – what can you say! Tomatillos, fresh chilli and onion with soft cactus on a crunchy chip! Love love love!
So lucky to have such a hidden gem just around the corner! Yum!!
**************************************************
Last visited 19th May 2013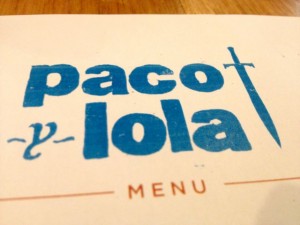 OMG! South Melbourne Market just got even better! Just by the wonderous giant paella and rustic fish sandwiches (and those Dim Sims everyone seems to be addicted too!) is a little touch of Mexico!
Paco Y Lola has been much anticipated by me, since the mutterings of a Mexican coming to my hood I have been watching the refurbishment with a bated breath (never really understood that saying!!). And here she is! And she is great!!
A menu packed with a variety of tacos, quesadillas, mains and sides. The sides were the bit that hooked me! I wanted them all! And in the list of black beans, guac and salsa was my 'Great Mexican Indicator' CACTUS! I love it!!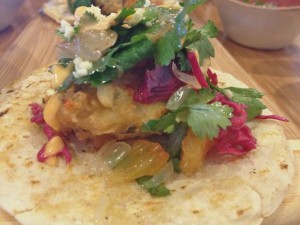 So hard to choose just one! Crab, pork, beef, chicken… they sound so good! I went with the soft shell crab because – well soft shell crab is amazing! AND with a punchy citrus salad and coriander, crunch and smooth, sharp and fruity! Fabulous!!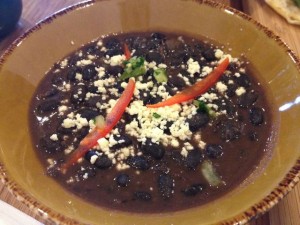 Black beans – so good! Rich, hearty and packed with flavour! Love love love!!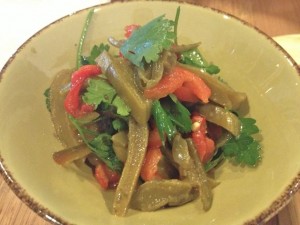 Cactus! I love cactus! Maybe it is just the thought of something so prickly and ugly can be so delicious! With serrano chillies, herbs and peppers – DIVINE!!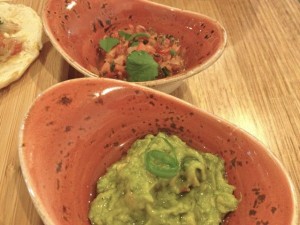 Big call coming…. quite possibly the best guacamole I have ever had! The perfect balance of avocado, limes, salt… just so good! And a very, very good salsa. These are great little portions and really reasonable so that you can fill the table with lots of different tastes and dig in! The service is still working out, it was their first weekend and we weren't in a hurry so no biggy.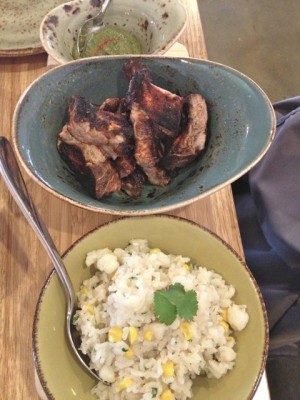 Ribs and Rice please!! One of the bigger dishes, Free Range Pork ribs with green mole and hominy rice pilaf. Stunning! Heaps of lovely little ribs with rich, green mole and tender rice….. 10 out of ten all around!
Definitely will be back to our new local Mexican very soon to try more!!