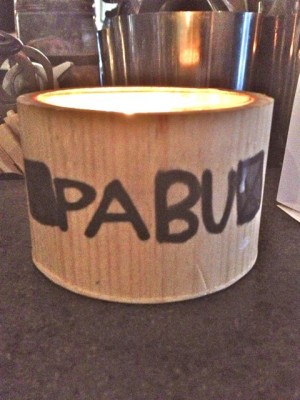 Quite possibly my new favourite restaurant Pabu Grill & Sake is another great spot on Smith Street (they just keep coming!). Dark and mysterious with a giant abacus on the ceiling and a large bar you can sit at an enjoy cocktail making and view of the kitchen. The menu for both food and sake are impressive and I have to actually write notes on my phone and negotiate the number of dishes…… they all sounded so good!! It helped that an instagram friend had been posting up delicious photos the night before so we already had a 'must eat' list!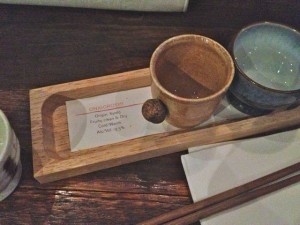 Easy going, sharing food – Japanese tapas with a great array across sashimi, yakatori and nibbles! But first to sake! I am not much of a sake drinker, I enjoy it but I don't really have the opportunity to indulge too often! At Pabu you can enjoy a tasting flight of three sakes to get a better understanding across the differences including hot and cold sake. Each served in their own little vessel and on a clever tray with the descriptors underneath again! Delish! Hubby has an Echigo beer and a first for us a large, wide glass – like a candle holder arrives! It looks like something you would easily drop or have to drink with two hands but it is surprisingly light and man hands manage no problem!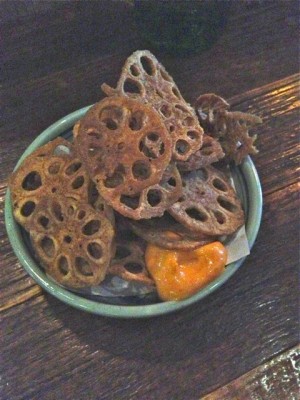 Our first dishes start arriving and we are not disappointed, renkon chips are served with a spicy mayo and are so gorgeous – can you get these in a packet??!! The spicy school prawns are a winner and the octopus balls are DIVINE!! Gyoza are some of the best I have ever had and scallops wrapped in bacon – sensational!!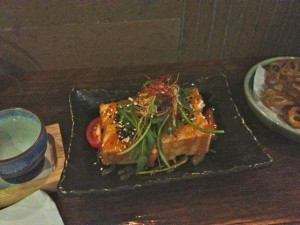 (apologies for piccies, you know I hate to flash!!)
Agadashi tofu is HOT HOT HOT! That little pillow really keeps it's heat but it is so yummy!! A selection of treats on sticks – chicken balls, bean curd, beef, thigh – Sooooo amazing!!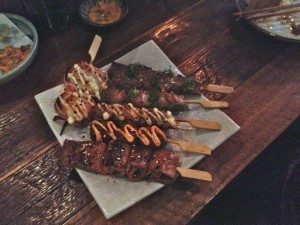 The sake has gone down really well and we are having a lovely time! The temperature has dropped dramatically outside so there is nothing to do but order a Espresso Saketini and the dessert sharing plate!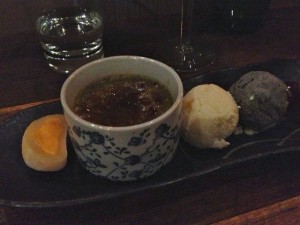 Green tea brulee, black sesame ice cream, lemon sorbet and melon mochi……………. WOW!! The green tea brulee – new to the menu, is exceptional! Perfectly crackable top and super creamy green tea 'mousse'? underneath! Sooo good!! Love the refreshing ice creams too!
This is a great place just to hang out, have some edaname and beers, grab some yakitori and don't miss out on a few sake cocktails!
Special mention to the music too – great tracks, some oldies and some goodies – it's something so many spots get so wrong!!