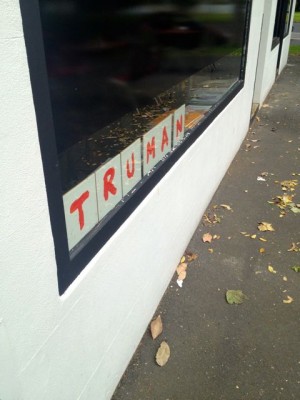 Truman Café has been hiding around the corner all this time!! We trotted around one day to find my new favourite breakie dish ever!!!
Firstly décor – eclectic, cute, love the little trail of red army soldiers running up the wall and across the ceiling! There is endearing paraphernalia but not in that old rubbish, collecting in unhealthy, dusty way!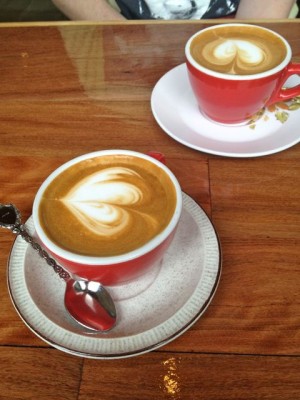 Secondly coffee – excellent! Fast, hot and definitely hits the spot!
Thirdly food – Brilliant! Breakie has the usual suspects but then there are a couple of never heard of dishes. Hubby goes for the scrambled egg and bacon roll, agreed you don't usually get a scrambled egg in your bacon roll!!
The scrambled egg has that super yolk yellow look and is all happily whipped into a luscious cloud and then sealed into a big relish licked roll with great bacon. There is a worrying pool of juice/grease dripping onto the plate but he doesn't have a care in the world and just inhales it really!!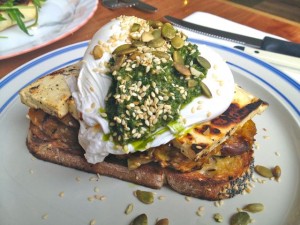 My breakfast… this is something special! sour dough multigrain toast with pumpkin, leek and sesame seed smash with perfectly poached eggs, salty haloumi, kale puree and sunflower seeds!! Could I BE any healthier!! This is the best breakie I have ever had!!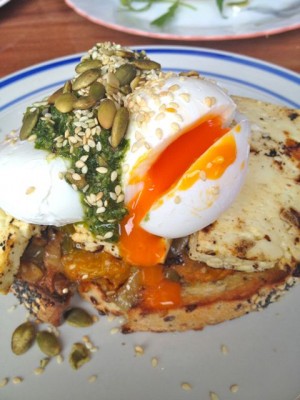 I can imagine on a weekend it is hard to get a seat as all the lucky locals congregate but if you do see a table grab it and get your halloumi and kale on!!