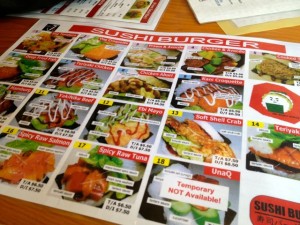 Long time favourite, I have no idea why there aren't more Sushi Burger spots in Melbourne. A tiny little restaurant that has been on Exhibition Street for years and specializes in all the fun of a sushi burger. For those of you who have no idea what I am talking about it's the concept of a sushi roll meets a burger – where the burger roll is the moulded sushi rice and then the usual sushi style filling in the 'burger'.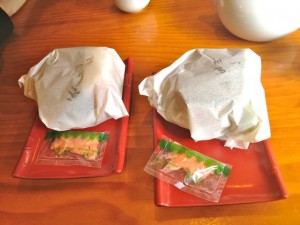 You can enjoy lots of lovely 'burgers' – soft shell crab, chicken and avocado, teriyaki chicken, spicy raw tuna, kani croquette and my favourite – ebi mayo.
The staff are quietly efficient and you will quickly have a table, green tea and menus before you can say Sushi Burger time! Averaging $5 – $7 there are more than your average sushi roll and though I always want to each two you really don't need to! But you can share so you can experience two at the same time!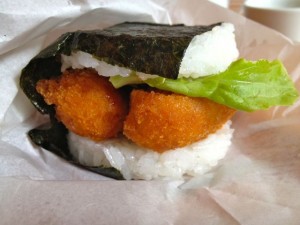 The Kani Croquette is DIVINE!! I adore all things gooey and fried! Who doesn't?! But creamy crab and potato with tonkatsu and tartare sauces…….. shut the door!! So incredibly gorgeous!!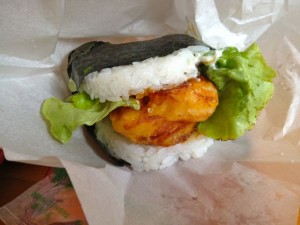 The Ebi Mayo is a firm favourite, super fresh, always pooped, prawns with the lightest tempura batter in their little sushi rice buns with a hit of fresh lettuce, tartare and teriyaki sauces… soooooooooo amazing!!!
It's fast and it will always make you smile……………. Wish I was there right now!!