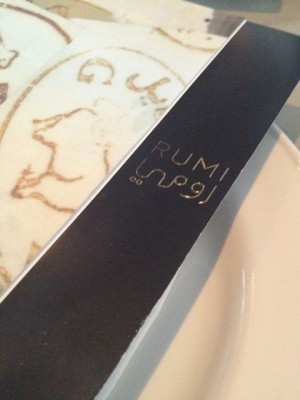 When somewhere is as busy as Rumi on a rainy Sunday night you know you have happened across somewhere pretty sensational. Rumi is a Middle Eastern haven at the still developing end of Brunswick East. With an informal atmosphere, simple decoration and smiling staff it's a great place to be… and then there is the food!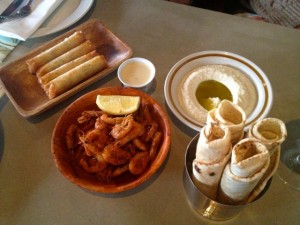 Almond Taratoor – similar to a hummus, Sigara Boregi, cigar shaped pastry filled with haloumi, feta, and kasseri and Spiced School Prawns with tahini sauce. This is the sort of food that makes you smile and make some very strange noises with happiness!! The taratoor was so gorgeous and the zingy olive oil and fresh, grilled flatbreads were a perfect start. The 'Sigara' were strongly recommended by our friend and I can see why! So incredibly delicious, all gooey cheese and pastry – perfection!!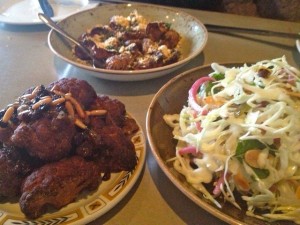 Next stage – Fried Cauliflower, caramelised onions, currants, pine nuts, Crispy Fried Jerusalem Artichokes, fresh thyme and shankleesh and Shaved Cabbage Salad, soused onions, raisins, almonds. The crispy artichokes were an extra dish courtesy of the kitchen and I LOVED them, the 'shankleesh' is like a dried ricotta and is all salty and potent in its dried form. The fried cauliflower is perfection with the sweetness of the caramalised onion and currents. The shaved cabbage a super healthy hit with burnished almonds – YUM!!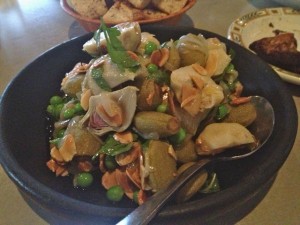 The special salad with green almonds, peas, artichokes and almonds was so amazing! I have never had a green or young almond, still in its husk and it was oddly wonderful. Packed with the rest of the dish this was again a super healthy dish. The Fried Potatoes with lemon, garlic, sumac were the only dish we didn't rave about.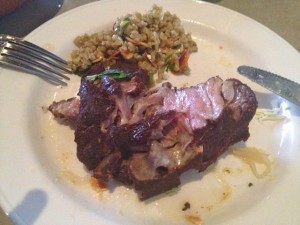 BUT the Spiced Lamb Shoulder, slow roasted on the bone with sirkanjabin, a sweet mint sauce, is one of the best dishes i have had all year! The lamb looks all dried up and a bit charred on the plate but gently stick your fork in and perfectly pink flaking meat appears. The sweet mint sauce escalates this dish to another level with the succulent savoury meat and spices and the sweetness and mint…… so very, very good!! Enjoyed with the Freekeh Salad, almonds, ewe's milk feta and pomegranate dressing – these are two dishes I would go back for everytime! Sensational!
Finish off with some fairy floss and mint tea and you may need to roll out of the door, but you will be in a very, very happy (and full) state!!