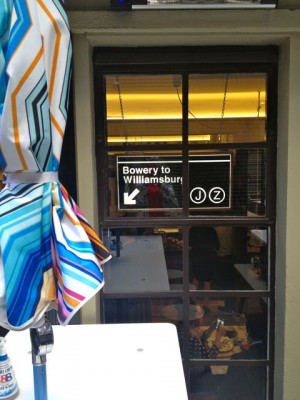 Bowery to Williamsburg – namesake to the New York subway station for the line connecting Manhattan to Brooklyn and we are certainly being taken on a journey back to the heart of NYC where coffee, bagels and lox are all in abundance.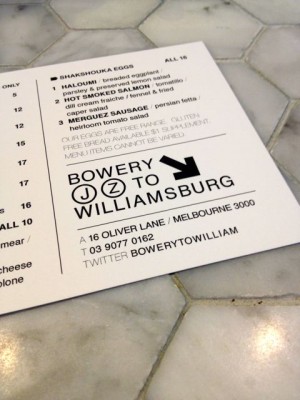 So taking hubby up the little laneway that looks nothing special but just as you enter there is a happy exclamation as you see colourful umbrellas and wooden benches hosting happy coffee fans. Inside there is a large communal table where you can see everything happening in the kitchen and where the take away coffee punters gather. We easily grab a pretty turquoise chair and order up coffees which arrive with little Hershey kisses – nice touch and we already feel like we are hanging out Stateside.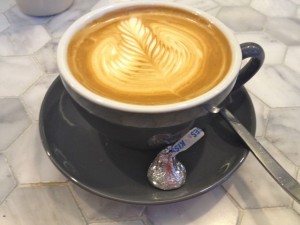 The breakie menu is a full on mouth watering array of dishes with bagel & schmear, granola, buttermilk waffles, french toast and lox latkes. The lunch menu is definitely one to get back for with po boys, reubens and mac and cheese on the side!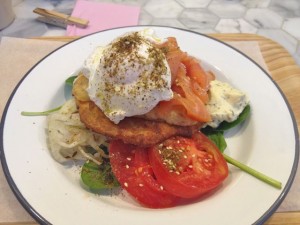 I go for the lox and latkes – latkes are traditionally eaten during the Hanukkah festival and are potato pancakes. These were big and dense – a man size portion of carbs! With an equally generous serving of lox – smoked salmon, sour cream, heirloom tomatoes and an over easy poached egg (prefer my to run all over the plate but c'est la vie!). It is big, flavourful and though I can only make it through half the plate it is a hearty breakie to set us up for the day! Just to confirm – how perfect was that egg?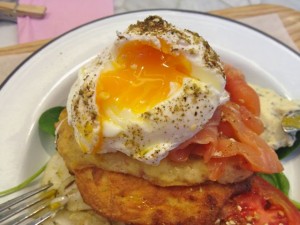 Perfection!
Hubbies pastrami hash is also a big portion with sweet potato, salty pastrami, corn and pepper hash with onions, toast and poached eggs – it is a delightful flavour combo!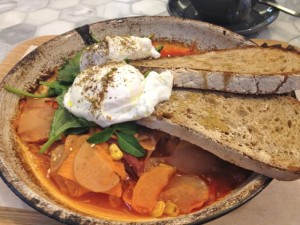 It's all here , if you can get in the door, I imagine BtoW can get pretty busy with such a fantastic offering! I will have to try and sneak back another time for a bagel or mac and cheese side!