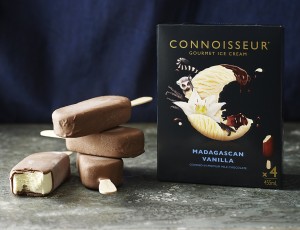 Let's all scream for CONNOISSEUR Ice Creams!! The new CONNOISSEUR stick flavours include;
• Murray River Salted Caramel with Macadamia – Within the Murray River lie ancient pink salt flakes. We mix them into our classic gooey caramel sauce and whip it generously through rich caramel flavoured ice cream. It's then locked away inside a layer of premium milk chocolate and macadamias. Salted Caramel – because opposites excite.
• Kangaroo Island Honey with Pistachio – The breathtaking wilderness of Kangaroo Island provides the perfect sanctuary for bees to produce quality honey. We combine this honey with rich pistachio flavoured ice cream, then coat it in premium milk chocolate infused with delicate pistachio pieces. It's an unforgettably blissful indulgence.
• Madagascan Vanilla – Vanilla is no longer merely vanilla. The vanilla pods that grow in Madagascar are revered for their delicate flavour. Distinctly pure, with just a hint of spice, these exotic flavoured pods are what we choose to infuse our decadently smooth ice cream with. We then wrap it up in a thick coat of premium milk chocolate. It's pure vanilla, made the excruciatingly hard way.
• Sumatran Coconut – The island of Sumatra is where you'll find the coconuts that give our ice cream its exotic flavour and exquisite texture. We have locked the soft, rich coconut-flavoured ice cream inside a layer of premium milk chocolate. It's one shell you'll have no trouble cracking open.
• Cookies & Cream – From an old recipe born in the USA, these perfect cookies are crushed and folded generously through our famously rich vanilla ice cream. We then wrap them in premium milk chocolate and add even more of the crumbly good stuff to the outside. This one's going straight to the hall of fame.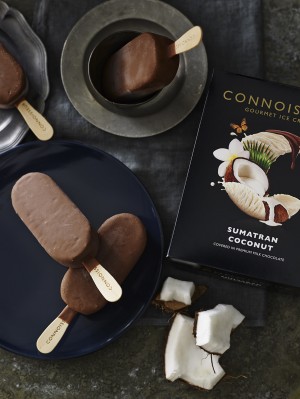 So lets talk seriously here, extensive taste tests were carried out, usually following a realisation of "Ooohh we have ice creams in the freezer!"
Cookies and Cream – OMG!! I have honestly never loved my ice creams and chocolate together! Separately I love but I am usually the odd kid nibbling off the chocolate jacket before enjoying the ice cream within! But this range has converted me…. Or I have just grown up!! Cookie dough ice cream surrounded with luscious chocolate and studded with cookie! If the cookie monster gets hold of these he is going to lose his mind!!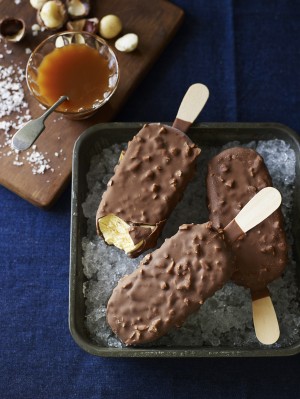 Sumatran Coconut – so very, very decadent! If you love coconut you will LOVE this one! Sit back and close your eyes and imagine a hot young hunk is taking coconuts from low hanging trees and cracking them fresh next to you and then drizzling…. Ok too much! You'll have to find your own island paradise dream!!
Madagascan Vanilla – the ice cream is flecked with fresh vanilla seeds, none of this fake, yellow scoops this is the rolls Royce of vanilla ice creams with a perfect milk chocolate shell to crack through.
Kangaroo Island Honey with Pistachio – HUGE fan of pistachio! And this has pieces locked into the choccie outer!! Inside is smooth, delicately flavoured ice cream with a cheeky kick of sweet honey.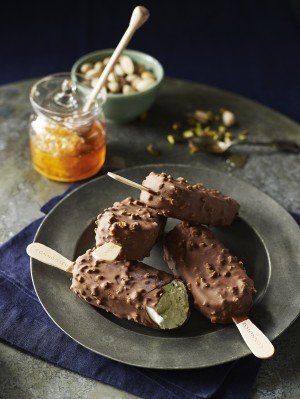 Murray River Salted Caramel with Macadamia – save the best for last……………. All the things we love on a stick! Huge chunks of macademia in the chocolate, salty caramel ice cream inside………. Enough said!
Get yourself to a shop now and get one of each! I promise you won't regret it!!
Photos courtesy of CONNOISSEUR – so better than me and my iphone!!