September's cookbook – Bill's Italian Food from the lovely Bill Granger. Mr G is fast becoming a favourite go too for quick and delicious recipes! Across his selection of books (apparently there are eleven… I am missing some!) I have favourite recipes in each that I know I can pull out and rustle up a feast without a big fuss or cost.
Bill's Italian Food is the latest installment to my collection and throughout September we are enjoying the recipes inspired by his travels across this wonderful country. The book is … I want to say 'Pretty' but that sounds odd! It is almost a foodie holiday album with Bill and his three beautiful girls photographed alongside the pizza oven, countryside and the Italian lane ways.
OR You can WIN your own copy!- NOW CLOSED Congrats to our lucky winner
Simply comment on the recipes we are cooking throughout the rest of September and one lucky winner will get their very own copy.
Recipe – Pan-fried snapper, capers and lemon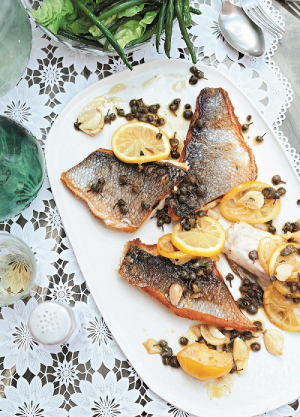 2 tablespoons olive oil
4 snapper fillets (about 150g each), skin on
2 tablespoons capers, drained
1 garlic clove, thinly sliced
1/2 lemon, thinly sliced
green bean and little gem salad
(see recipe), to serve
Heat 1 tablespoon of the olive oil in a large nonstick
frying pan over medium heat. Season the
snapper with sea salt and freshly ground black
pepper and cook, skin side down, for 2–3 minutes,
until the skin is crisp and golden. Turn over and
cook for a further minute then remove to a platter
and keep warm.
Return the pan to the heat, turn up the temperature
and heat the remaining oil. Tip in the capers, garlic
and lemon slices and sizzle until the capers burst
open and look crisp. Spoon over the snapper and
serve with green bean and little gem salad. SERVES 4
Recipe 14 – Chocolate and Hazelnut Cake

Sensational and I didn't even put the additional calorific chocolate nut frosting on!! Had the consistency of a perfect brownie with a bit of a crust and a squidgy centre… so good!!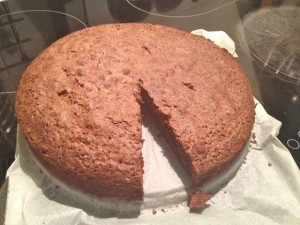 Recipe 13 – Tomato and Mozzarella Gnocchi Bake

Such tragedy for a Foodie when your phone camera just loses a whole heap of pics for no reason…. I promise these looked fabulous! In there little red mini le creuset, all bubbling cheese and tomato! Oh well… have to just imagine!!
Recipe 12 – Grilled Lamb Cutlets with Broad Beans

Gotta love lamb! Perfectly burnished out the outside and pink in the middle – knife and fork? Nah, Lamb Lollipops I believe Jamie calls them!!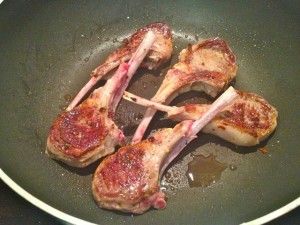 No pic of the salad – camera fail 🙁 But it was gorgeous, still prefer to shell my beans, Bill left his on?? Love the mint and chilli and …. perfect dish!
Recipe 11 – Lemon Braised Potatoes and Artichokes

Once hubby has gotten over the confusion of what to do with a massive fresh artichoke vs the convenient little jar I have in the cupboard our beautifully cooked potatoes were on their way!!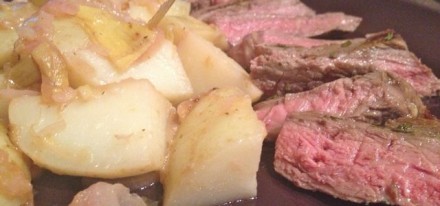 So good!!
Recipe 10 – Roast Rib Eye Steaks

Hubby is in the kitchen and has grabbed a couple of Bill recipes to try. A good testament to anyone can cook with Bill!! (only kidding hubby!!) No rib eyes so we are having beautifully cooked fillets with a perfect little marinade and lemon braised potatoes (see recipe 11).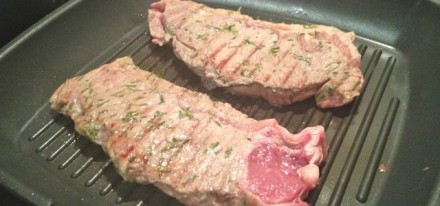 Anything else? Oh yes, a little Malbec for Argentinian flare!!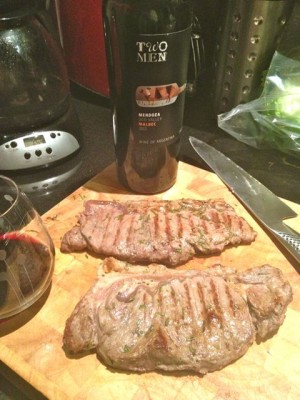 Recipe 9 – Three Bean Salad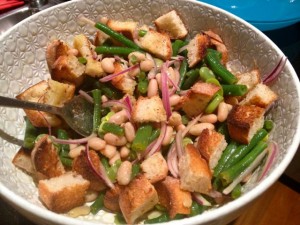 Gorgeous salad, loved the beans and as a sneaky extra I took the roasted garlic from the chicken (below) and spread it like butter onto the croutons….. devilishly good!!
Recipe 8 – Roast Chicken with Lemon, Chilli and Saffron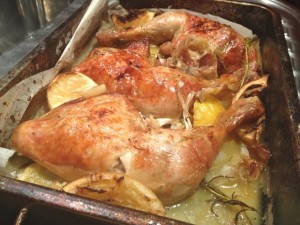 WOW! Possibly the best chicken I have ever roasted! Went for the marylands rather than a whole chicken, saves me carving and non one has to argue over which bit they get!! The flavours in this were amazing, loved everything about it and so simple!
Recipe 7 – Prawn and Dill Ravioli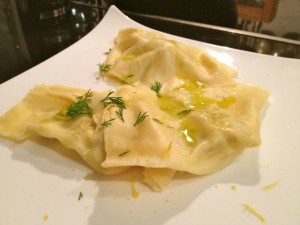 Cheat alert! I didn't make my own pasta! I wish I had as the fresh pasta sheets I bought were pretty shoddy! But I did de-poop and peel my own prawns – which I hate doing!! Let me say these babies were very well fed before I got my hands on them! Top Tip from good old Maggie Beer – when you can see the exposed poop shoot after removing the head, grab with a toothpick and pull the whole thing out gently! Works a treat!!
These were the perfect flavour combo, super simple and thrilled the filling didn't escape in the boiling water and make very watery prawn soup!! Little Olive oil and lemon and you are going to smile!!
Recipe 6 – Roasted Cauliflower, Sultanas and Pine nuts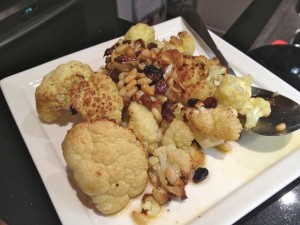 Sensational Salad number 3! I don't know if I have roasted cauliflower before but it is so quick and so delish!! Loved the little extras Bill adds to this dish to make it …. sensational!!
Recipe 5 – Braised Pork Meatballs
Brilliant recipe spiked with sultanas they spend the Sunday afternoon in the slow cooker and then we just roasted them quickly the next night with some gnocchi – perfection!! The leftover ball ended up in hubbies sandwich the next day…. smiles all around!!
Recipe 4 – Orange, Fennel and Dill salad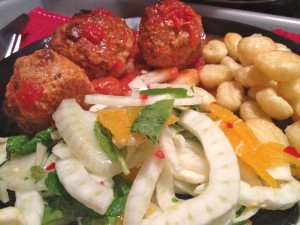 Sensational salad number 2 – I just love raw fennel and the spikes of fresh, juicy orange and fresh organic dill from the brothers garden – there were no left overs on this one! Serve with delicious recipe 5 – meatballs!
Recipe 3 – Slow Roasted Lamb Shoulder, Orange, Anchovy and Fennel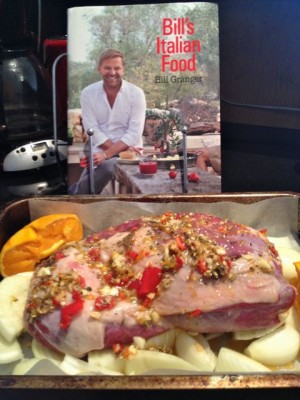 Not as fall apart as I would have liked, I don't think I left it long enough in the oven, I bought smaller piece of meat and played with the timings a bit, plus my fennel was burning!! Still tasted damn good though!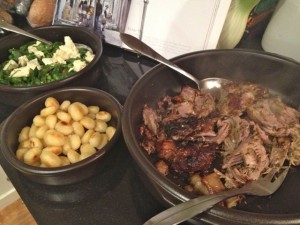 Recipe 2 – Pea, Spinach and Torn Mozzarella salad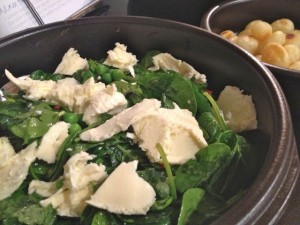 OMG – obsessed! So fresh, simple and blow your mind delish. the birds eye chilli was a bit blow your mind too but I loved it!! You cannot go wrong!

Recipe 1 – Pistachio and Orange Loaf Cake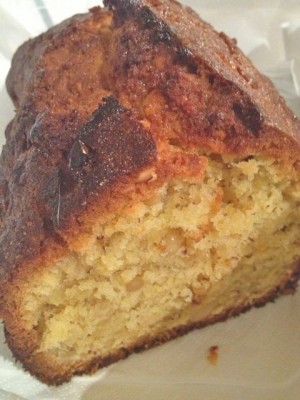 Apparently I have been neglecting my baking duties at work and they are all wasting away…. ok, ok I get the hint, Bill do we have a recipe for a quick bake on a Sunday afternoon? Ofcourse!! So I have been getting a bit more confident with baking, I would never mess with a meringue or parfait recipe – scientific wonders that they are! But cakes I have a play with depending on what I have in the pantry or what is in season. Pistachios were really bloody expensive… so I didn't get those! Instead I substituted with a but of hazelnut meal and chopped almonds, so we are an Orange and Nut Cake!!
Super simple, in the K Mart Mixer, simple batter and in his loaf tray for almost and hour baking. But the really cool bit was the neat little trick with honey at the end… I'm not telling you will have to buy the book!
OR You can WIN your own copy! – NOW CLOSED – Congrats to our lucky winner
Simply comment on the recipes we are cooking throughout the rest of September and one lucky winner will get their very own copy.