I can't believe how long it has been since we strolled down the road for lunch! Le Flaneur is going strong and is still a gorgeous space with lots of character and a fridge full of delicious cakes!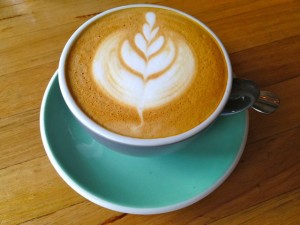 The coffee is fabulous, a perfect cup and thoroughly enjoyed on a cold day.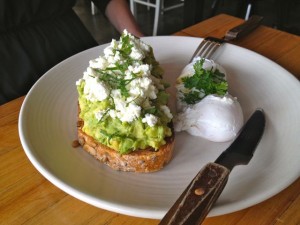 My friends smashed avocado and poached eggs was a generous portion with zesty, fresh avocado and two bulging poached eggs ready to pop!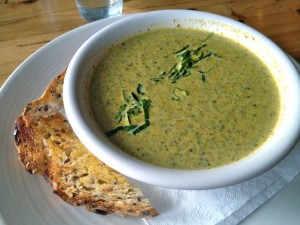 But for me the special of the day, mushroom soup, was a perfect bowl of hearty, flavourful, comforting loveliness! Buttery toast and thick, hot, mushroom soup – so good!!
Thanks again Le Flaneur, promise we won't leave is as long next time!
***********************************************
Last visited 25th November 2011
Le Flaneur – to stroll, lounge, saunter the staff certainly don't but it does have a wonderful relaxed environment!!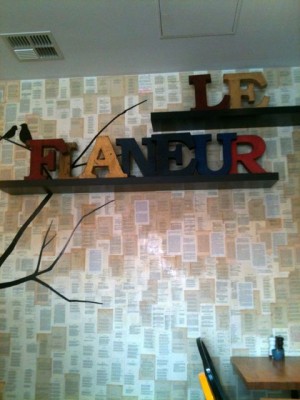 Recently opened next to Ocha, Le Flaneur is a wonderful spot for lunch, coffee or a cheeky macaron! The interior is gorgeous with plenty of colour, mis-matched chairs and some bubbling equipment going on!! With the windows fully opened you can stroll in, take a pew and gaze longingly at the great looking baguettes, cakes, slices and all manner of wondrous goodies!
The menu is surprisingly more than café fare, it has amazing le petit dejeuner such as croque monsieur, brioche French Toast and butter scrambled Kangaroo Island free range eggs. The specials range from Homemade char-grilled vegetable terrine, savoury Belgian waffles and the Prawn Mille feuille with golden hand cut fat chips….. W….O….W…!!!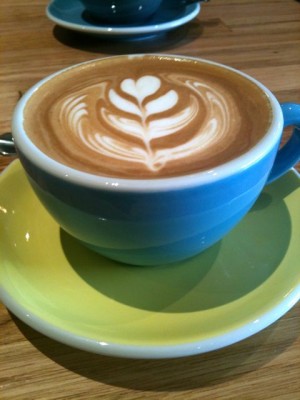 First up – coffee – cure cups and saucers, beautiful skinny flat white 10/10!
My fellow diners lunch is the Smashed avocado with pepper, lemon infused Danish feta and soft poached egg on sourdough, looks amazing! Generous portion and a cheeky taste says it tastes as good as it looks!!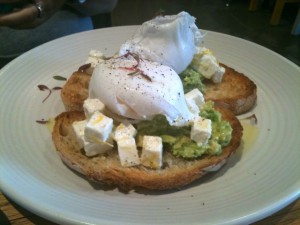 But the most amazing dish in the world ever is…… the Prawn Mille feuille, prawns with mayo, lettuce, smashed avocado, dill, onion and tomato salsa on a buttery brioche bun with hand cut fat chips….I'll say it again. W….O….W…!!!
The prawns are fresh and firm and are having a party in the lashings of yummy friends in its soft sweet brioche house!! It is phenomenal!!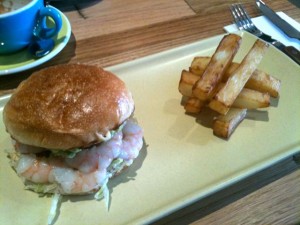 The chips are amazing! My little chip stack is carefully demolished and I even share one with my friend – I am that good a person!! They are soft, really flavoursome and a testament to the wonder of the hand cut fat chip!! Thankfully it was a delicate portion because I doubt there would be much self control if a bowl full arrived!!
The staff are gorgeous, the atmosphere is relaxed and there is certainly a happy vibe!
Cannot wait to be back, this prawn roll didn't last long enough!!!