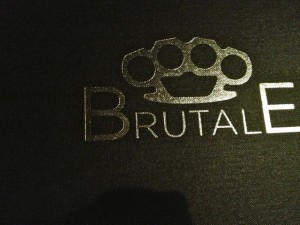 Some nights it's good not to have too much of a plan, see where the night takes you! Set a meeting point and then let fate decide! Tonight fate was a bloody genius!! We all met at House of Maximon for a beverage or two, as we were heading into the doorway to this and Berlin (another fave) we noticed Euro Trash is no more! The scene of many a good night and too many beers our Trashie friend has gone and in its place the Eastern European, slightly devilish and incredibly delish Brutale!
We turned up on a busy Friday night and didn't really expect a positive to the question of "A table for six?"…. but at Brutale your wish is their command! Back up to Maximon for a quick wait and then Tarrrr Darrr……….. Table for 6 just near the very cool DJ doing his thing!
Drinkies organised we hit up the menu, six people and a need for pierogi!! The guys have the option for those who are happy to have the hard decisions made for them with the 'Dobra family Banquet' for $75 including a Rakija to 'provoke your appetite'. We have specifics that everyone wants to try so we decide to pick our own banquet for the night but a round of appetite provokers are ordered to continue the birthday celebrations!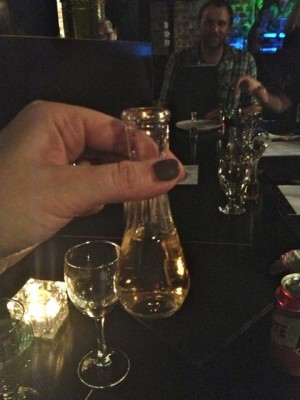 The menu is a mouth watering mix of traditional Eastern European fare with 'Pag style cheese, olives & onions, fried pickerels, pierogi and chevapi & ajvar, grilled calamari and Plate Marena – small dishes to share. My new addiction is the Roasted Red Paprikas with 'kajmak' sauce (soured cream).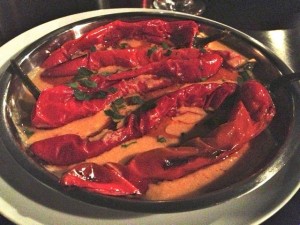 OMG, send me that and a warm crusty baguette right now – Happiness!!
The Pierogi – Polish Dumplings and soured cream are little pastry parcels of greatness, the picture says it all!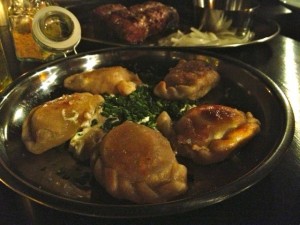 Chevapi and Ajvar – charcoal grilled naked sausages, 'ajvar' red paprika and onion relish …………….. so ………… delish!!!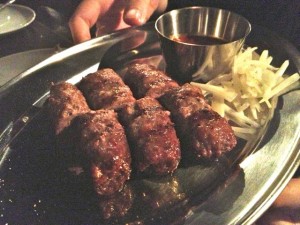 The larger dishes echo of the big, comforting dishes you might expect, Spit Roasted Pork – 300g serving of free range pork from the spit with apple rakija sauce. 'From the Peka' Lamb roasted under the 'peka' (a cooking dish and a dish!) with onions, bay, rosemary and garlic. Balkan Goulash, Fish Prvic and Traditional style Croatian cabbage rolls stuffed with smoked ham, beef and rice.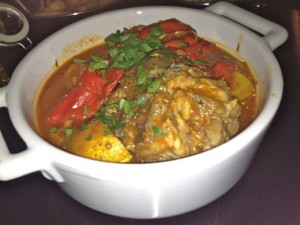 All of the above thanks lovely friendly staff! The guys at Brutale could not have been more helpful, from what delicious dishes to select and the perfect amount of food for 6 people.
The chef even came for a chat later on and though I am sure he would rather be in the kitchen away from the Rakija fuelled patrons, he was perfectly lovely. The DJ was pumping out the eclectic tunes in a perfect balance of creating a bit of a party atmos but still able to hear your friend ask you to pass the pierogi!!
All in all, you would be crazy to miss out on this one!!