Welcome to Tree of Us!  We invite you to come and check out our AWESOME boutique Burger Range, and incredible hand cut chips. Our food is sourced from local sustainable suppliers wherever possible, and we brew only the best fair trade coffee from Atomica.
Says it all really!! The Tree of Us is just a wonderful place to be and it's Burger-licious!
Relaxed, informal, friendly and …..did I mention they do exceptional burgers!!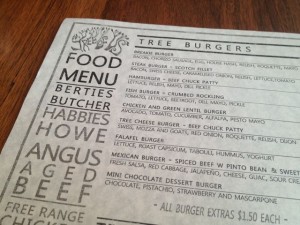 You have to choose, it's a cruel twist in the deal, and there is a lot to work through;
The Breakie Burger
Steak Burger
Hamburger
Fish Burger
Chicken and Green Lentil Burger
Tree Cheese Burger
Falafel Burger
Mexican Burger
AND….
Mini Chocolate Dessert Burger!! Plus specials!
A few sides of chips, onion rings and a whole list of 'Not Burgers' … what? Not burgers!!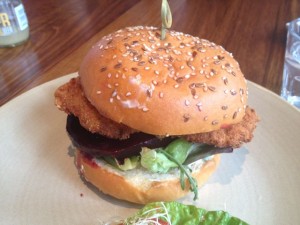 My 'happy to share' friend agrees a Hambuger and Fish Burger are a definite go-er and the table is going to be very well looked after with bowls of chips and rings!
The hamburger with lettuce, relish, mayo and dill pickle is perfection! Each element is carefully considered from the bun to the rosey charred beef chuck patty. Might be my top burger ever!!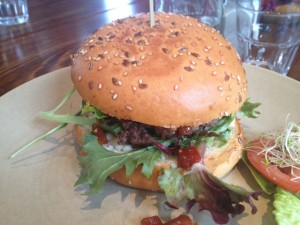 The Fish Burger is a generous fillet of rockling, crumbed and fried and the glistening, flaking fish screams fresh and fabulous! Teamed with tomato, lettuce, beetroot, dill mayo and pickle it is the best fish burger in the world – I haven't had many but it was that good!!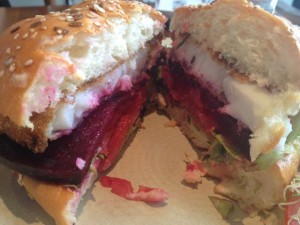 We bought a boy along, hence the two bowls of chips and rings… but he ordered the special double 140gram patty with bacon and cheese…….. A monster!! I was playfully chided for cutting my burger in half and 'cheating' – a necessary cut for sharing but double burger boy soon went quiet when we realised his wasn't going in his mouth unless he was going to dislocate his jaw!! Knife and fork for a burger – shame, shame, know your name!!!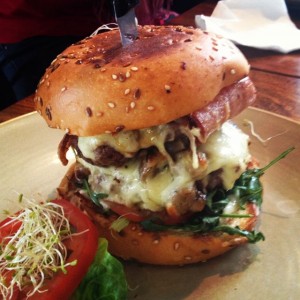 The Mexican Burger with spiced beef with pinto bean and sweetcorn, fresh salsa, red cabbage, jalapeno, cheese, guac and sour cream looks sensational, as a messy eater I might have to get that one to take home and enjoy myself without scaring others!!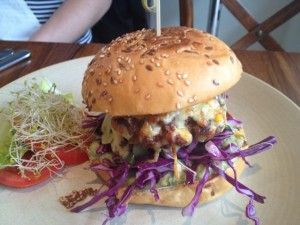 Onion rings were probably a step too far! They are huge, thick battered, deep fried, never gonna be good to you and that kind of food that when you have a little burp later reminds you how sinful you just were!! (do I share too much!!). Anyway – it seemed rude not to at the time!!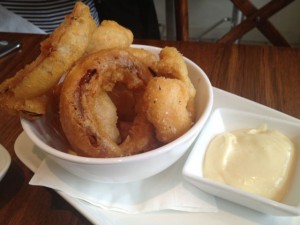 Seriously cannot recommend these guys enough, probably the best burger I have had in a while and I desperately want to get back there for another one!!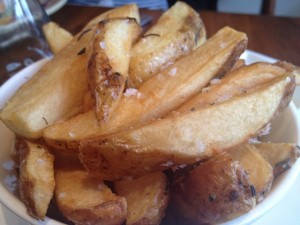 And if that wasn't enough of an excuse……………Wednesday Night is Rib Night!
Just Do It!!!