We have spent the last few weeks in some of Melbournes great bars – most of them with intimate lighting that results in shocking pictures! But if you did fancy a adventure one night you might like to try some of these beauties!
House of Maximon

We have been hanging out in Corrs Lane for a long time, over the years we have seen many a good night in Fad Gallery, Euro Trash, Berlin Bar and some late night eats in Ants Bistro. But like all good spots they change and evolve and just below Berlin Bar is the eclectic, dark and fun House of Maximon.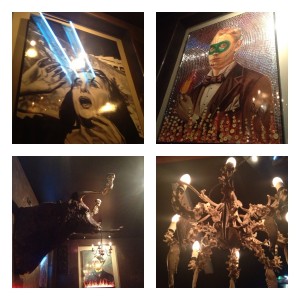 With the smell of popcorn wafting through the door and pumping music you can grab a booth or private little alcove and enjoy reasonable priced beers, a reasonable wine and I have no doubt some substantial tequilas!
The Red Hummingbird

A old favourite with a great rooftop for the warmer months and an intimate and cosy style The Red Hummingbird is a great little bar to kick back and enjoy. Strangely only serving Gossips wine the night we were there…. umm no!! But I am sure that was a one off!!
Above the wonderous tapas of Portello Rosso is a cute little bar, a great place to just be! Stocking Boston lager for the boy and an enjoyable wine list as well as impressive cocktails – it is a damn fine spot! If you can grab one of the few seats or couches you should never leave, it's a great place to be!
The Vineyard

A hub of activity away from the cake shops on Ackland Street The Vineyard is usually over flowing in the summer, with a decent space outside and a great bar inside you can enjoy a reasonably priced and well ranged wine list along with some very impressive cocktails! I fully recommend the Apple Pie!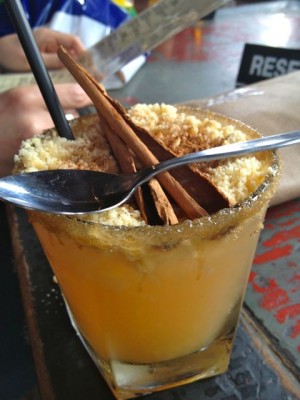 First time in ages we have played the "Where on earth is the door" game! Yep, good old Melbourne, down the laneway and if you can find the big heavy wooden door – don't be scared just come inside! As described by the website this is no average bar – "E.D.V is an intimate, dimly lit, jazz infused speakeasy created for the discerning bon vivant." There is no wine list, no beer, this is a cocktail wonderland with Alice in Wonderland eccentricities galore!!
It's small, intimate, dimly lit and fun! The cocktail list takes time to digest and choose your poison, tables around you are full of smiling patrons with glasses overflowing with smoke or pouring from large glass dispensers!
The best part is you can reserve a seat for a drink, in a town where reservations are becoming a novelty, guaranteeing a seat for a drink on a Friday night is a luxury! I opted for the 'Van Gogh Fizz'
"You will go mad for this tasty beverage! La Fee absinthe combines with maraschino liqueur, fresh lime juice, honey, mint and aloe vera juice to create a truly great drink with Parisian origins." And it comes in a little milk bottle with a red and white straw!! Thoroughly gorgeous and perfectly done!
Hubby enjoyed 'The Newton' 'Plums & apples baby, with a bit of a kick. We mix up apple jack, lemon juice, honey and pomegranate with a few secret ingredients. Served short and tagged with an atomised bitters stencil." A delicate little glass with a perfect apply stencilled and floating on the top!! Wish I had piccies!
This isn't a rowdy pub for the boys, this is a sophisticated stop with a beverage to be savoured not slurped!
They also offer cocktail degustations and tapas! Definitely worth another visit!
Little Lonsdale is pretty uncharted territory for me and it is home to so many cute little places I want to explore more! Horse Bazaar is a great, relaxed spot to enjoy a drink and the menu is pretty easy too! Japanese bar snackage! Think croquettes, spicy wings, edaname and gyoza. Sit back, relax and watch he cool kids at play!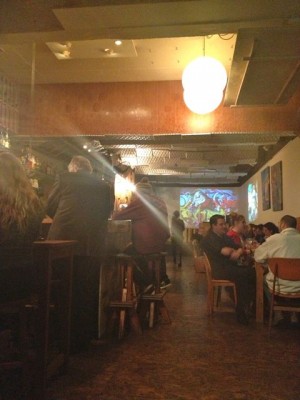 There is rarely a spare table at Cumulus Inc, with no reservations you know you will wait for a table just to get your hands on their whole roasted lamb shoulder to share! But now Cumulus has gone up! In a gorgeous space just upstairs you can still enjoy the great service and atmosphere of Cumulus over a drink and tempting bar menu!
There is a fantastic wine list and to go with it choose some kale fritters, terrine, crispy pork salad or duck waffle, foie gras and prune! It is the wonder of Cumulus Inc in bite size portion and I can't wait to come back I only hope there is another floor so they can keep going up and accommodating everyone!
Siglo
One of my favourite rooftop bars in Melbourne, they are nice enough to be open incredibly late and offer amazing drinks in a comfortable setting with great service! The perfect spot for a cigar and a negroni, this is a must visit to show off all that Melbourne is best at. In a building that holds The European, Melbourne Supper Club and this little gem I am not sure why I go anywhere else!!!
La La Land

There aren't many bars that great you with a log fire at the bottom of the stairs! Whilst wondering around one night we heard lots of noise coming from a balcony above us and as we went up the stairs we had de ja vu of a fun night out with friends that introduced us to bars we would never find again! Until Now!! It's a great space with big comfy couches, ample closed off smoking room and happy hour is very happy! $5 a bubbles, get comfy and enjoy!!
There is a great vibe in the place, good tunes and friendly staff. Wine list isn't too bad and you could do a lot worse on a night out!