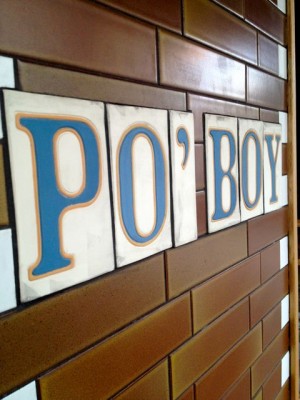 Cool dudes, Po' Boys and fried green tomatoes! Po' Boy Quarter is the less roaming part to the Gumbo Kitchen crew and I am so glad, as those food trucks aren't generally allowed south of the river! Off on a lunchtime jaunt we grab a table on busy Smith Street and order in a few plates to share…..
Holy Gumbo!! There is no portion control here! These are man sized portions and fat and salt is most definitely included!! Thank goodness we didn't get the fries too, though the mountainous bowl with spicy mayo looked really good!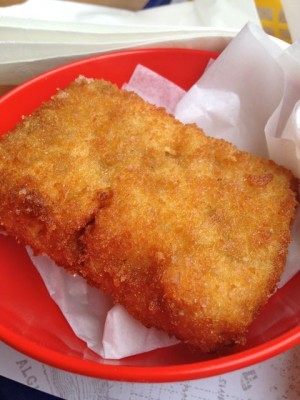 Mac and Cheese Croquette! Bargain at $3 because this is the size of my palm!! A crunchy, crispy coat encasing creamy, cheesey mac and cheese! God damn heaven!!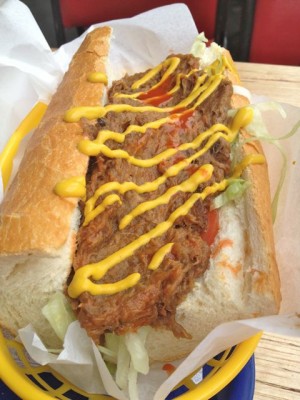 The Beef Debris! Just $12 and the size of my forearm!! 10 hour braised beef with Cajun gravy, French's Mustard and Louisiana Hot Sauce!! All in a gorgeous, fresh, crusty baguette.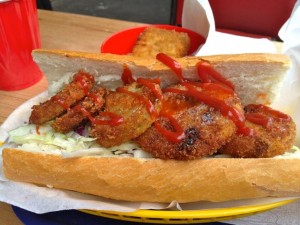 And just in case we were still peckish!! The Fried Green Tomatoes Po', maize battered fried green tomatoes with cajun claw, pickles and Louisiana Hot Sauce…… OMG!! So very good but soooooo very bad!! I don't think I have ever had a Fried Green Tomato and it was kind of weird, I think my brain was expecting a pickle flavour but it is kind of nothing-ish but in a gorgeous crunchy shell and with Cajun slaw it rocks!!
This is another great spot on Smith Street and I recommend you come with a big appetite and leave the diet plan at home!!