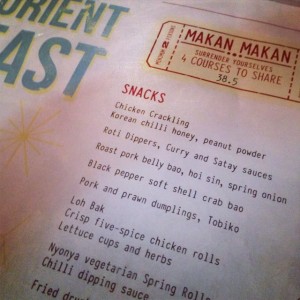 We don't venture down St Kilda Road too much on a weekend, the strip runs hot all week with hungry workers searching for an inspirational lunch or after work beer but on a weekend it is quite quiet and possibly a perfect night to try out a new hot spot at Orient East. Slight hesitation when we read it was part of the Seasons Hotel but the reviews on Urbanspoon were glowing (apart from the odd kid that went to an Asian restaurant and didn't like the steak sandwich!!) But we rock up to a lovely outdoor area – bring on summer, and a colourfully decorated space devoted to the Malay Peninsular. With a fifties vibe and relaxed dining feel we are greeted by a lovely chap who organised a table and wine list for us and off we go….
Some preliminary menu scouting had already spotted Buddakan style duck buns and soft shell crab but it still took some deliberating to agree and not over order!! A fantastic bottle of SA Riesling in had we a swiftly delivered chicken rolls, roti dippers and soft shell crab rolls.
FYI the breakfast menu looks pretty impressive with some of the usual suspects but you can also go on a culinary adventure with Kaya Coconut Jam on your toast, Jian Bing Crepes with pork floss, crunchy chinese donut and hoisin or congee!
Roti dippers are a lovely fluffy roti with a delectable peanut sauce and a great curry sauce, I could just order those with a few beers on a Friday after work!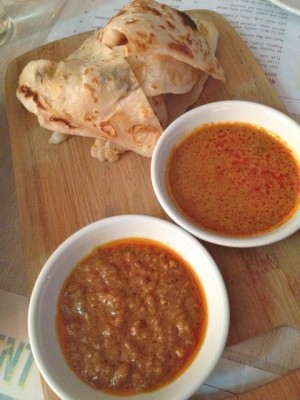 Loh Bak – Crispy five spice chicken rolls with lettuce cups and herbs are fab! Really delicious, lots of flavour and … well hell get there and try some!!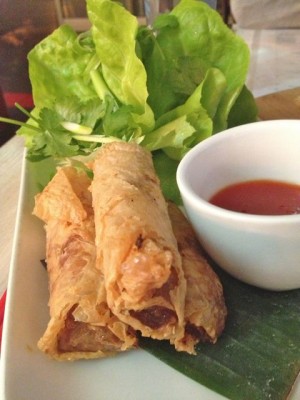 Black pepper soft shell crab bao is a bit undersold, they need to warn you how gorgeous this dish is!! Those super soft pillowy envelopes – made from the dough you expect on a BBQ pork bun, filled with a lightly battered half crab. There is a chilli sambal type paste that is rocking your socks off and … well it was smiles all around with these! This is the sort of dish that causes everyone on the room to follow the waiter as he delivers the dish to the table!!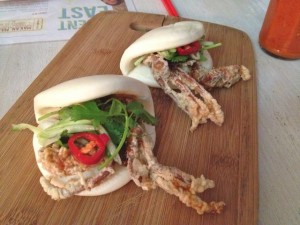 So we had a good go at the 'snacks' but it gets really tough from here on to choose, I would like the Beef Cheek rendang, the glazed pork belly, the Kuay Teow, the Mee Goreng, the laksa, jumbuck and a side of Hainan Chicken!! Portion control in effect I order with unknow restraint the half duck and steamed buns.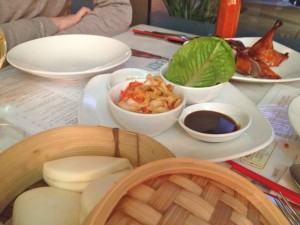 WOW!! A perfectly gorgeous example of roast duck, chopped into helfty chunks with kimchi, herbs, sauces and those beautiful soft buns again. Bit odd to only serve such a large serve if duck for two people with only three buns but twitter assured me I could ask for more!! Not that we needed it, we filled up on amazing duck and hubbie gnawed down to the bones!!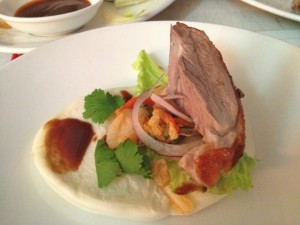 I really wanted to find room for the White Chocolate and tofu parfait with kumquat marmalade and macadamia or the Banana fritter sundae with rocky road, salted caramel and peanut butter icecream!!! Next time!!!
Service was lovely, vibe, though quiet was great and the bill at the end was really reasonable! Great night out and even better – quick walk home!!!