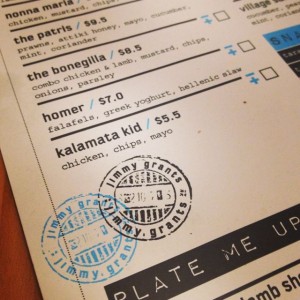 Jimmy Grants – a general name awarded to the immigrants looking for work at the docks in the 50's, the menu shares the story of Mr Papdopoulis and his famed 'lamb soave' in Athens – so succulent due to strapping the pot to his bike and riding over the potholes to produce fall off the bone lamb!! Have to try that one when I get a bike!!
GC's latest – a simple souvlaki shop! The old Peter Watson Spice Shop just off hipster Smith Street is simply sign posted with a neon blue cross and a 'touch me' sliding door into an easy going space with focus on the kitchen and smells wafting of slow roasted lamb and souflaki filling the space.
We manage to snaffle a table near the man himself – looking very trim, if that's what a diet of souflakis result in sign me up!!! We are on a time limit so we swiftly order up at the counter – dips, salad, bread, lamb, chips! Done!!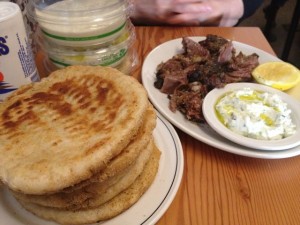 And just a fast there are pots of dips (in handy take away pots!!) the most amazing pitta breads! 3 people, 4 pitta, 3 dips…. Slight over ordering but they are soooo good!! Taramousalata, houmus and tzatziki – all fabulous and that bread! So good!!
Ancient grains salad, similar to a St Kats dish we love, so fresh with lentils, herbs, nuts and a touch of sweetness from the raisons – LOVE IT!!!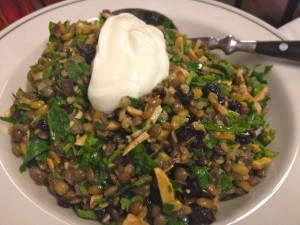 Slow roasted lamb is perfection, you cannot fault the food here but you can over fill the tables and the stools don't have a step for your foot … but nothing is perfect!!!
And finally for the table some fries with oregano and feta, regrettably I never actually put the lamb and fries and dips into one fluffy pitta and constructed my our souvlaki! Rookie!! Next time!!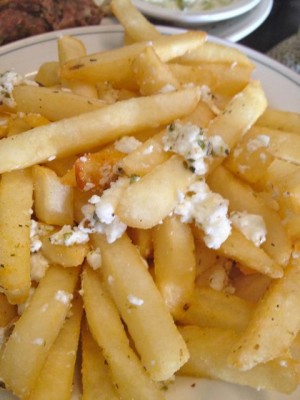 Get in quick, I am sure as word gets around it will be a tricky one to get a seat at soon… but they do do takeaway!!