You can't go wrong at Bayte, apart from not booking a table because it is a popular spot! Fortunately our table for four is booked and waiting for us. A rainy Saturday afternoon should always include a few Lebanese beers and good food!!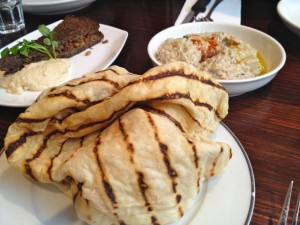 The 'Khoubiz el Saage – chargrilled flat bread made in house' is stunning! You barely want to wait for it to cool before you grab it and start scooping up the gorgeous, creamy, smokey baba ganoush.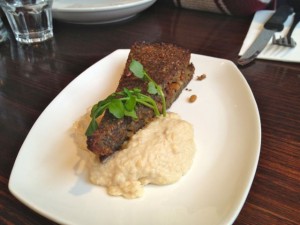 The 'Lahem Kibbeh bi Saniyeh – baked lamb kibbee slice filled with caramelised onions and pine nuts' is just gorgeous with the creamy hummous, still remains really succulent and I love the pop of pinenuts.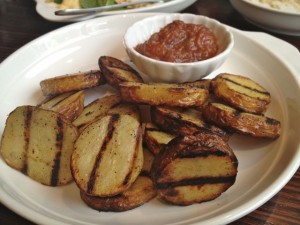 The 'Bataata Meshwi – potatoes barbequed and served with homemade tomato sauce' were kind of a last minute addition but I think they were one of the best dishes we had, though it's very competitive!! Loved the tomato sauce!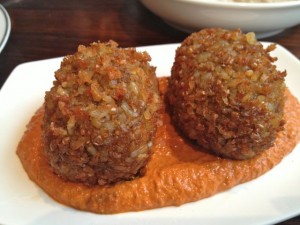 Give me all the 'Kibbeh Rass bi La'teen' you have!! A fried pumpkin kibbee filled with caramelised onion and almonds, just gorgeous!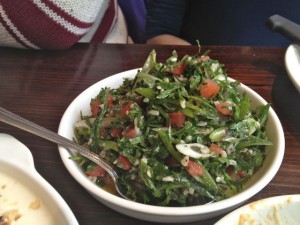 Textbook perfect Tabbouleh with parsley, mint, spring onion, tomato and burghul – tick, tick, tick!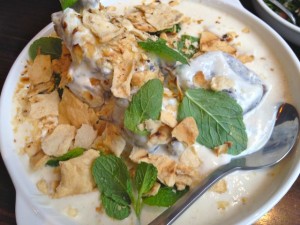 Maa'ez bi Laban – slow braised goat leg cooked in laban with preserved lemon, mint and Lebanese breadcrumbs – HOLY GOAT!!! I wish I could express how amazing this dish is!! It's not as creamy as it looks and the goat is incredible…..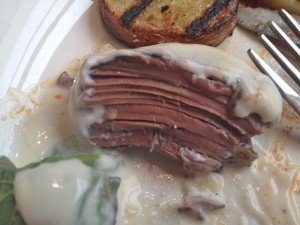 Seriously!! Just a beautiful dish, so well cooked we could just pull the bone out clean!!
I love Bayte, I am sure we will be back again soon!!
*****************************************************************
Last visited 3rd December 2012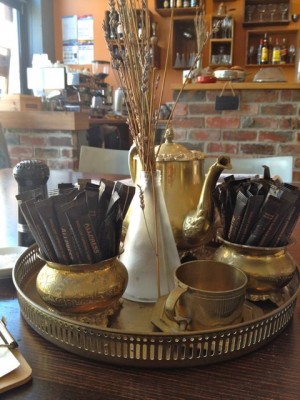 Such a gorgeous little place! A great vibe and a stunning menu!! Friends have raved and now I know why!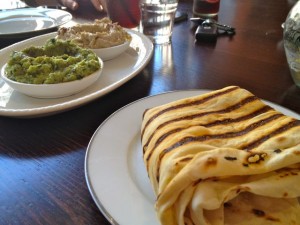 The Chunky Broad bean and coriander dip is sensational!! I want it now!! And the Baba Ganoush is also a winner!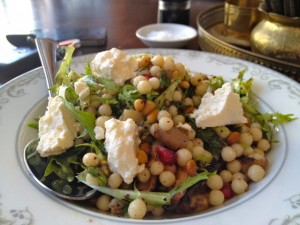 Moghrabieh Salatat – couscous salad with roasted vegetables, pomegranate and Lebanese cheese, slightly sweet, slightly nutty – totally lovely!! This was a brilliant dish – Fresh and vibrant and fab!!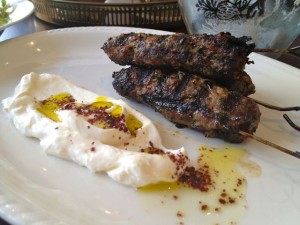 Kafta Meshwi – barbequed lamb kafta skewers served with housemade labne – Packed full of juicy lamb and fresh herbs, the labne is a perfect combo…. more please!!!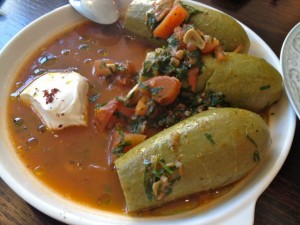 White marrow filled with cumin spiced green lentils, rice and dill served with garlic tomato broth… yep is is as good as it looks!! Cut them open to reveal a treasure of wholesome, hearty lentils!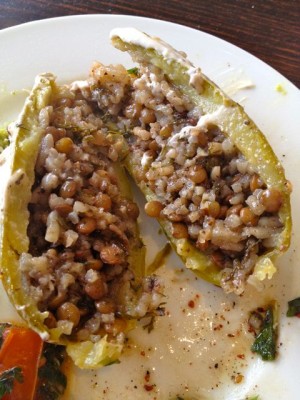 Amazing!!!
Love you Bayte, I want to come back very soon!!