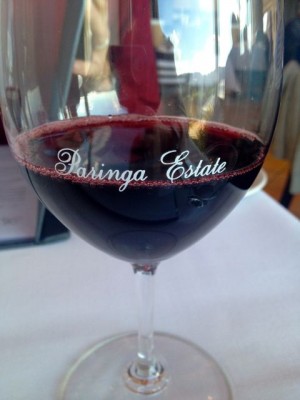 Barely an hour out of Melbourne and you can enjoy rolling vineyards and some foodie fun! Mornington is home to many great wineries and restaurants. Paringa Estate is an old favourite, home to some fabulous peppery shiraz and a wonderful restaurant overlooking the estate. Hailing back to the 80's when Lindsay McCall, a school teacher, bought a derelict orchard on Paringa Road, the winery has grown over the last 30 years and the hard work has produced successful wines across chardonnay, pinot noir, riesling and shiraz.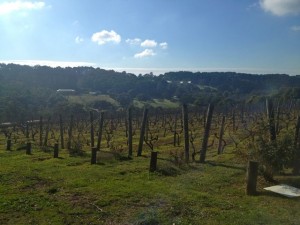 Head Chef Julian Hills, came to Paringa from The Courthouse in Melbourne where he was the Executive Chef for the past 2 years. With a background across the kitchens of Spain and Andorra as well as stints in The European and Brighton Baths. His passion for seasonal and local produce, foraging for mushrooms and wildflowers and indulging in all Red Hill has to offer is evident in the menu.
The cellar door and restaurant look like they have recently been updated and the log fire is a welcome sight on a cold winters day. Floor to ceiling windows show off the amazing outlook and you can sit back and relax and watch the geese waddle around the vines over a glass of something fabulous!
The menu is a deletable delight of local produce and very reasonably priced for a Melbourne girl. Entrees come in around $20, mains $35 and then sides $8 – so you can go crazy and chuck in a bottle of wine to take home for less than $200. Roast duck, kingfish, venison and short ribs.. all so tempting. Our table is quickly filled with a glass of the estate Shiraz each and fantastic warmed rolls with amazing local olive oil and a whipped anchovy butter. I swear that butter was one of the best things I have ever tasted!!
For entree I opt for the healthy Kingfish with borscht, creme fraiche, carrot and rye crisp.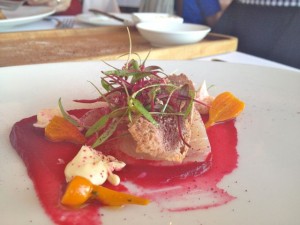 Such a beautifully presented dish with such pretty colours and delicate flavours. The kingfish was melt in the mouth, so fresh and with the micro herbs and beetroot dust it is a wonderful start to lunch.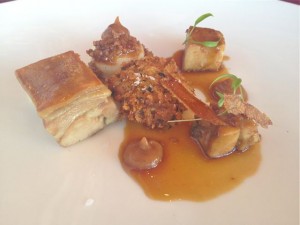 Food Envy alert! So jealous of Hubbys Suckling Pig dish it is total winter comfort, beautiful soft pork with crackling and a little pork fritter. Intense flavours that result in total food envy! Teamed with sides of brussell sprouts with chestnuts and bacon and kipler potatoes in a light dressing and this is wholehearted lunchtime decadence.
For mains hubby wins again with lamb three ways, succulent fillet cooked just pink with a little rack and pinenuts.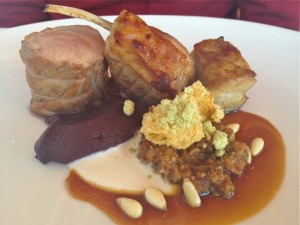 My generous plate of beef short ribs with pickled mushrooms and burnt onion skordalia was delicious, rich and cooked perfectly. Love those sprouts, poor things get such a bad reputation from the 80's boiling beyond recognition by your mum! Roast them and add bacon and you cannot go wrong!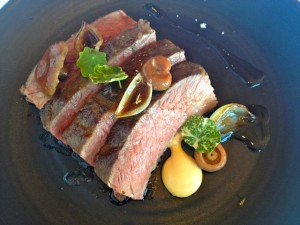 The staff are lovely, service was impeccable and George the restaurant manager looked after us really well. After our leisurely lunch we picked a spot at the front and worked our way through some fabulous pinot and my favourite shiraz.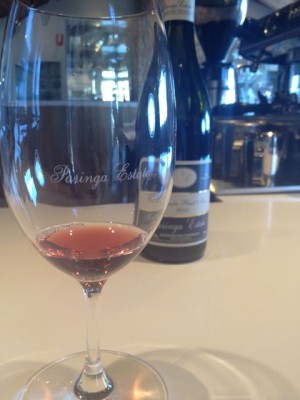 Paringa is a great spot for some wonderful wine tasting and lunch as you explore all Mornington has to offer.