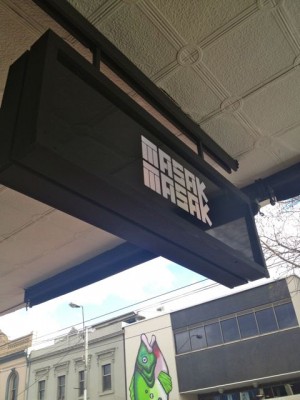 Another little ray of sunshine on Smith Street! There is so much UV down there it's getting dangerous!!
Masak Masak has popped up – not really sure what was there before but it is now a bit white airy room with pops of colour, ample seating and a charcoal BBQ fire going in the corner!! From the word cook in Malaysian and based on kids playing with their pots and pans they have delivered 'An Asian sensation with a focus on fun"!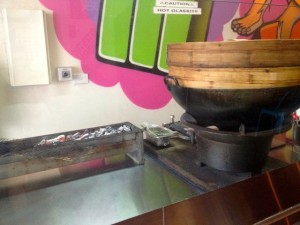 I love the sentiment on their website;
"There's no need to wait to be seated at Masak Masak. Come straight in; pull up a chair. Our menu is pretty straight forward, but if anything doesn't make sense, just have a chat with one of our staff"
Says it all really! No pretention, no fuss, help yourself, dig in and I have no doubts you will enjoy.
Dinner is a full menu starting with $5 bites Bites $5 each – Century egg, pickled ginger, chilli oil or Sticky anchovies, peanut, chillies, kicap manis. So coming back for those anchovies! The Carcoal grill is going with satay, Lemongrass lamb belly, Slow-cooked beef ribs and Otak-otak (grilled fish mousse, kaffir lime leaf, wrapped in banana leaf). Holy Masak Batman!! $9 snacks include Buffalo wings, Silky tofu wakame salad, House-made pork jerky, Prawn wonton. WOW!!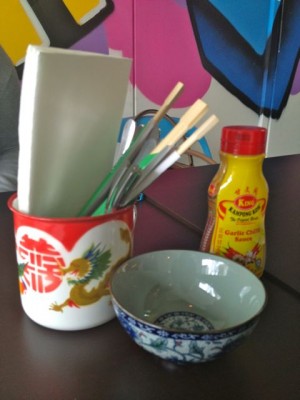 Larger plates include: Grilled stingray, Beef Rendang, Hainanese chicken rice, Flaming BBQ pork ribs and Shitake & king mushroom stew on rice vermicelli nest!! That in my book would be a bloody good night out though portion control would be out the window!!
So lunch specials are all $10, you get a little something, something and it is a reasonable portion and a bargain at that price! Super fresh, packed with flavour and service with a smile.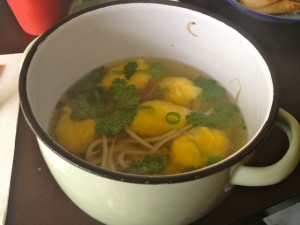 Prawn wontons come fried or you can get them blanched in a little enamel pot of fragrant chicken broth – divine for these cold days! The wontons are soft and velvety and there is a whole heap of fresh prawn packed in!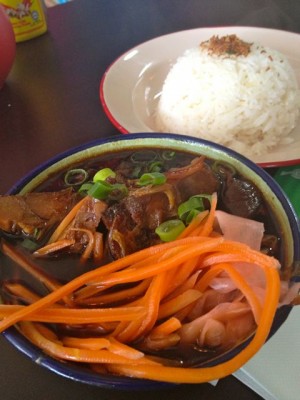 The Soy braised boneless pork shank with pickled ginger and steamed rice is aromatic and rich with flaking meat that has just fallen off the bone and the tingly picked ginger and carrot – DIVINE!! Funny how I reject the skin, all flappy and gelatinous but my fellow diners try it and as they correctly argue if it was deep fried and covered in salt I would crunch away!! Apparently it was lovely!!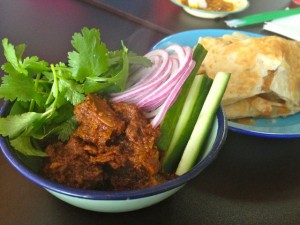 I am craving curries at the moment, anything you have I will take it, the hotter the better! Red, Green, Yellow – Just add more chilli and I am there! Masak Masaks Beef Rendang with flaky roti is exceptional. The beef falls apart but is still incredibly moist, the flavour is so lovely I am craving it again right now! Roti – tick tick tick!!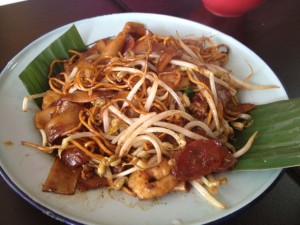 Todays lunch special char kway teow is a perfect example of this dish, not greasy, crispy and fat flat noodles with chinese sausage and prawns – I could go back to this right now! And $10 Bargain!!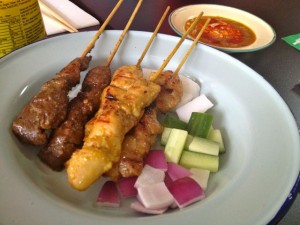 Charcoal grilled satay with chicken or beef and the most amazing satay sauce you have ever had! Huge chunks of peanut, with creamy sauce and a pool of chilli oil on top!! AMAZING!!
I would drive over here every night if I didn't think my jeans would fail to close within a week!
Love it, get in there and grab a seat and enjoy!!