Week 4 – having a bit of a rest, had a few meals left over last week due to trips out with friends and bought some cereal to ensure we have a breakfast. FAILED! Even though there was cereal there hubby decided to snooze and extra 5 minutes and skip breakfast! I forgot to take mine to work and we both slipped back into bad habits!! Week 5's food delivered today – back on the right track next week!
Week 3 – stopped counting the days!

Still going strong, loving the variety and the lack of having to go to the supermarket! Also means I am not picking up lots of other treats from the supermarket so if I get hungry there are no chippies, crackers or choccies to tempt me!!
Sunday we had Eggs Benedict – honest! Look how good they looked!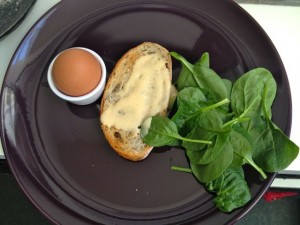 Ok it was nothing like our local brunch haunts serve but it was tasty, filling and I was impressed! We also had a greek meatball wrap which rocked my world!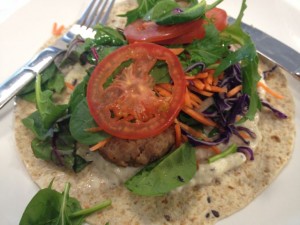 So big I couldn't close the wrap and so tasty I couldn't stop making yummy noises!! We also enjoyed the spaghetti bolognese. Any dishes with mince are all super tasty and flavourful, the lasagne, meatballs and bolognese all great! Thoroughly enjoying the curries, butter chicken was delish! Sweet and Sour chicken tick tick and Tandoori chicken yum!!
Also enjoyed muffin with marmalade and hokkien chicken noodles for lunch during the week – all very yummy!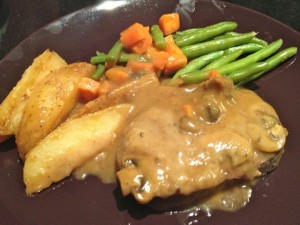 Dinner Wednesday is a teeny steak with a very enjoyable mushroom sauce, veggies and a couple of potato wedges. It's cold outside and this is comfort food and it's ready in 7 minutes! Happy days!!
Portion control training is starting to take effect with breakfast on our day off being a piece of toast rather than two and when left to order in restaurants we are starting to order one dish between two to share and making hubby eat 2/3rds! Week 4 we are having a week off but will be back on the LnE horse again to continue the fun!
I love fish pie but this wasn't my favourite so far, it was ok but it missed that decadent bechamel sauce and cheese!! Good effort though!!
Day 13

Tomorrow is the first day of our third week with LnE but it is also the Good Food and Wine Show so we had tomorrows lunch today! Pizza….. if you know me well, you know I love pizza. It is my favourite food ever and to go to a LnE option is a big risk!! But you know it wasn't so bad!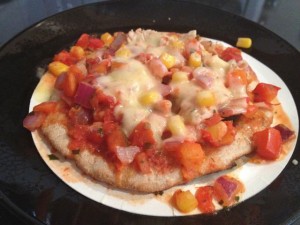 You get your little base and then a pot of lovely filling with onion, peppers, chicken and then a little grated cheese. Normally I would easily eat 5 times this amount of pizza (and ten times the cheese!) but this is portion control people and it is working!! Yum but would love to dial a pizza right now!!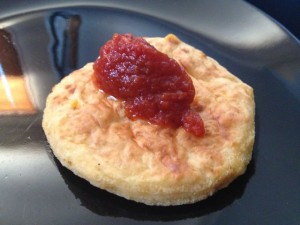 Corn fritter snackage from tomorrow! YUM!! Pop in a toaster and then a little tomato jam and we are all smiles! Hubby commented they are just like I make… thats a compliment for LnE!
Day 12
Nearly the end of the 2nd week and I am still enjoying everything! I haven't had to go to the supermarket in ages, I have a variety of food ready to go each day and I have lost 2kgs so it's all good! Jammy muffin for breakie is nice, missed my cereal though! Lunch was a slight let down! When I opted for Steak and mushroom pie I was hoping for a footy pie!! Surprisingly this is more in the style of a cottage pie! But it is delicious! Thursday night was a switch for my night off but we still ate really well from Sarah Wilson's I Quit Sugar book! Happy days!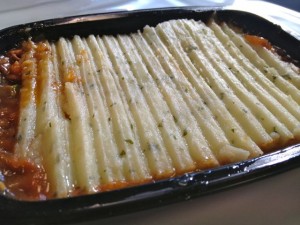 Day 11 – Wednesday
Honey Muesli flakes with toast and vegemite. I am loving the cereals, they are delicious and I had forgotten how much I enjoy them – probably need to measure my milk though, I am being greedy there too!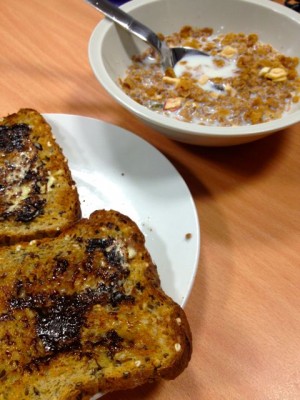 I did have two pieces of toast as there was a mix up somewhere and there were two slices instead of one and there was a missing Banana and Date Muffin snack that I was really looking forward too but an extra piece of vegemite toast is nice too!
Lunch is lovely tomato soup! Love love love! It's cold outside and soup is so comforting and yummy!!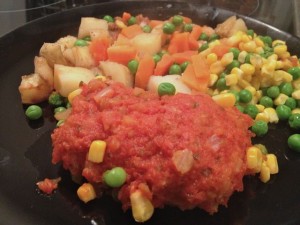 Dinner – Chicken Schnitzel – damn good! Tiny little chicken schnitzel and it was a bit soggy after being nuked but still satisfying…. though think of the parma you get in a pub.. the side of your head!! Hmmmm pub parma!!
Day 10 Tuesday
Yummy breakie with Fruit and Bran cereal – modest portion and toast with Jam! Lunch is BBQ Chicken with wedges, I dream of KFC especially with the Hot and Spicy back in… mouth watering! But this is nice, good amount of chicken, wedges are nice, lots of nice flavour and I love sweetcorn. A few more interested faces at work and they seem surprised that that food is from Lite n Easy.
Some nice chive and cheese crackers for snackage and fruit. Remember back to eating half a packet of cheesey rice crackers…. portions portions portions!!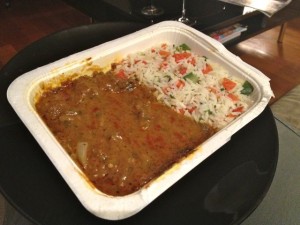 Dinner is the Roghan Josh – a god send after a busy day and late home so dinner in the microwave in 8 minutes is perfect. Honestly it would have been pizza otherwise and there is NO portion control when it comes to me and pizza!! Though I have done this because I am dis-organised and lazy I have love 1kg so it's win win!!
Day 9 – Monday again
Normally it would be a 50/50 chance whether I was organised on a Monday but even with a lack of matching socks and a flat battery I can still make it out the door with breakfast, lunch and snackage! Breakfast is Fruit n Muesli toast – just a little slice but so tasty! You get real butter with your toast in LnE which surprises but it is a decadent little treat! Vanilla yoghurt, satsuma and peaches with raspberry sauce keep me going and then lunch is a BLT.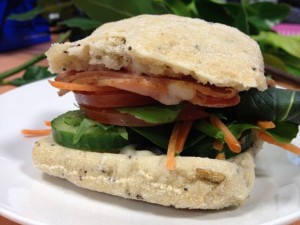 Yep bacon in the microwave! Who knew? And a mini ciabatta roll with a dollop of mayo and salad. It is just gorgeous, maybe the reduction in food makes me like it more! I know if I had made a roll at home to bring in the size of the roll and the dollop of mayo would both have been substantially larger!!
Dinner is porcupines!! Still makes me giggle, not a real porcupine don't worry!! Just lots of lovely meatballs studded with rice, tomato sauce, mash and peas! THAT is a damn good Monday night dinner!! And as hubby said I didn't have to spend an hour making balls!!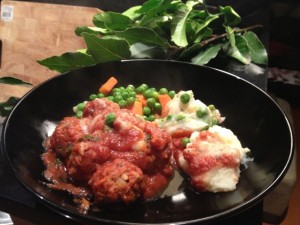 Day 8 – Sunday Roast again!
Breakie was the perfect example of boy portion vs girl portion! Same little pot of yummy beans and bacon in a rich tomato sauce on toast.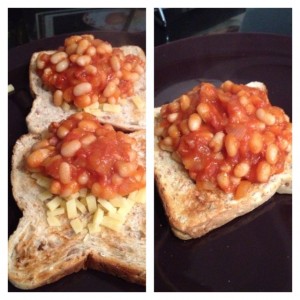 But hubby gets two slices of toast and cheese with his! Lunch was a fantastic salad, I have to put it in a bigger bowl it was so generous!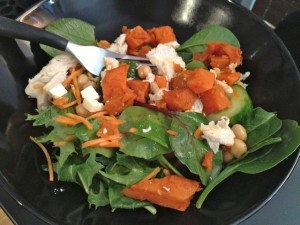 Roast chicken and sweet potato with feta and a french vinegarette – super!!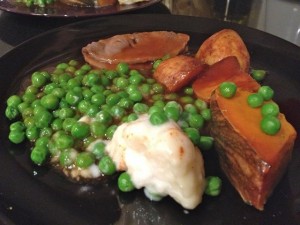 Roast lamb wasn't as good as the chicken last Sunday but it was still really nice and guess what? No dishes!!!
Day 7 – Day off
Day 6 – Yummy cereal and I swopped my tuna roll for hubbies soup today – delish!!
Day 5 – switched my day off and headed off for a winery lunch …. there was no portion control there!!
Day 4
Morning and here I am having breaky again! AND enjoying it!!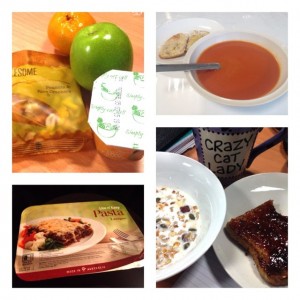 Todays Almond Toasted Muesli with a slice of toast and jam. A perfect little portion and delish! Soup for lunch and I forget how nice tomato soup and a toasted and buttered roll could be – happy happy happy!!! Peanut and Rice Crackers snackage – ends up all stuck in my teeth… save it for later!!!? And for dinner we have lasagne! I adore a massive hunk of rich meaty lasagne with oozey bechamel and melted cheese crust, bit of garlic baguette and it is carb overload! Tonight modest portion had surprising flavour – I loved it!! Another happy day!
Day 3

Happily skip off to work with a bag full of fun, loved the fruit and bran cereal and my pear and vanilla yoghurt snack. Lunch was a fabulous bowl of warm and lovely pasta with chicken and broccoli – rocked my world and everyone was sniffing the microwave to see what tasted so good!!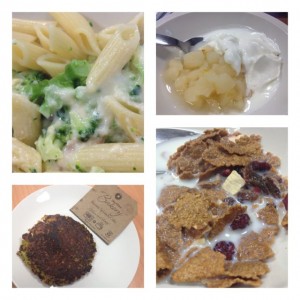 Afternoon snack was a warmed spinach and ricotta cake that I would happily everyday – sooooo yummy! It's the cheese monster coming out in me!!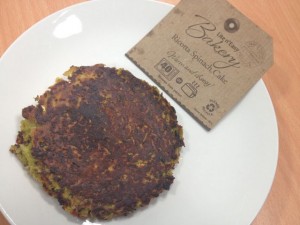 Now what to have to dinner? Beef Korma! I adore curry! I love to make my own, I get surprised how much places charge for a good curry when it is really protein with a heap of amazing spices and tomatoes! But neither option can bring me a curry in 8 minutes!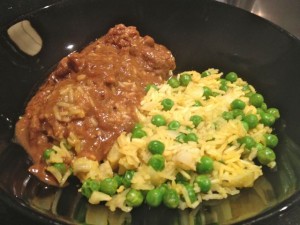 This was delicious! Missing the roti, bhajis and mango chutney but it was very tasty!
Day 2
Slight confusion all round with what we are supposed to have in the bags and organising ourselves plus peaches and raspberry sauce has leaked and we have to be out the door 30 mins earlier than usual!! But my serve of Berry Wheat bites was really nice! Again portion control – I would always pour twice as much cereal than allocated today! Cute little fruit cup for snackage and a cup of coffee and we are set for the day!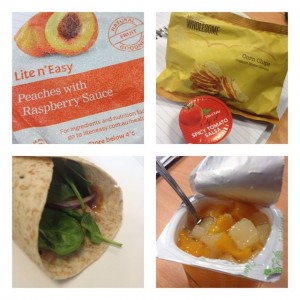 Lunch is a wrap of soy chicken tenders, peking sauce and Asian Salad (slices of red onion does not make a Salad Asian but it is yummy anyway!!). There are also peaches in raspberry sauce – feel quite naughty and very yum!
This afternoon I get to have corn chips and salsa – hurrah But only 20grams …. not the usual bowl full!!
Peoples reaction is good, everyone seems quite interested in what you get, though I did have to reassure a few that I would still be cooking on weekends!
Day 2 – Dinner
The ultimate comfort food just got fast! Lite n Easy Sausage and Mash with peas, pumpkin, cauliflower and gravy! Sensational! Wish I could eat twice as much it is so good….. but I guess that is why we have put on 10kg in the last few years!!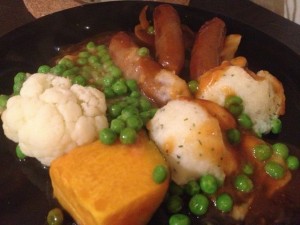 All in all happy days so far and tomorrow is another day!
Day 1 – Sunday 26th May 2013
Day 1… which is actually Day 2 on the plan! Took me a while to find the right bags, thankfully before I was on the phone complaining and making a fool of myself. Though the butter was missing from breakie Day 2! So I have chosen the 5 day, 1,200 calories plan and hubby is coming along for the ride on the 1,800 plan.
I like that you can choose a flexible plan to suit your week! No lock ins and you choose whether you want breakfast, lunch and dinners over 5 or 7 days. 5 days feels good as I can still cook and by having our days 'off' on Saturdays and Sundays we can still enjoy but what about the food?
Day 1 – Breakie is more than I ever eat, I hate breakfasts! I don't like eating early, I don't like paying a ridiculous price for toast and eggs, not a fan of eggs, eggs, eggs and ….. lazy Sundays often miss the breakfast window!!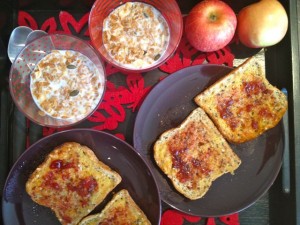 A little muesli, a little toast and an apple for later – pretty good!
I like the convenience factor – it may seem a little pricey when you first look but then I add up what we spend on food in a week… and then all the extra breakfasts and lunches I then buy and then a cheeky pizza one night and dinner out another night…. $106 for 5 days of food for me is damn good! Plus I get someone else to select my meal plan, shop and pack it all up for me! I have the gift of time!
The delivery arrives mystically on the doorstep before we leave for work, two big boxes of food! Problem 1 – where to put everything! A weeks worth of food is more than I have room for in the freezer and it's time to throw out the old packets of filo and peas and unlabelled tupperwares of brown stuff!!!
The freezer and fridge are overflowing and we aren't starting until Sunday… oh well!!
Day 1 – Lunch
Nice multigrain roll, turkey, salad and an orange. Hubby gets a heap of extras – little cookies, chicken linguine and we both have sultana teacake for afternoon tea later!!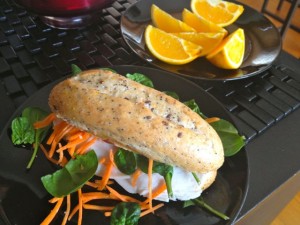 I think the 1,800 plan for hubby might be too much! He doesn't really eat that much and if we are having a big breakie and snacks the mini meal pots might be too much!!
Day 1 – Dinner
Urrrmmmmm hello?! Roast Chicken dinner and no pots and pans to wash!! The biggest message I am starting to get is portion control. Tonights dinner was a plateful of roast chicken breast, peas, roast potatoes, pumpkin, cauliflower 'cheese' and stuffing – all in a lovely thick gravy. Now I know that you will probably be thinking it can never be as good as the 'real thing' and I am pretty sure the roast potatoes were never near any goose fat and the cauliflower 'cheese' barely had a grate of cheddar in it. BUT it was great! It tasted nice, we were pleasantly full and again – there was no washing up!!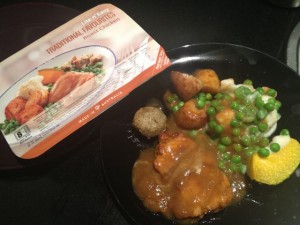 Portion control – tonight dinner was a good half of what I would normally each for a Sunday Roast – it is time to be honest with myself that my idea of 100grams was severely exaggerated! I would have eaten 4 times as much chicken and pumpkin than this serve. Potatoes again pile them on and roast them up all crispy in olive oil!!
If nothing else this is an education if what I need vs what I do automatically vs a little bit of greed basically!
I did sneak in a little extra cheese and crackers – Sunday is a tough day to start a 'healthplan' and I am always more hungry on a Sunday……
Starting out… A friend has convinced me, the adverts of thirty-something couples all happy AND losing weight, are all true! Lite n Easy isn't just about healthy eating it is about a lifestyle…. here we go!