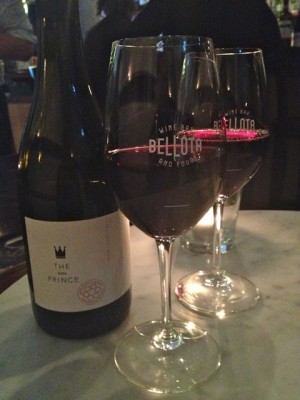 South Melbourne wine store The Prince has had the genius idea to open a wine bar next door and even have a door through from the store!
Peruse the many amazing wines The Prince wine store has to offer and if you want to pick up a little something you can then take it through to the wine bar next door for a small corkage fee (unless you spend over $80 on the bottle and then it's free!). Or you can select from the very fine wine list the team have put together in the wine bar with a great selection by the glass, carafe and bottle.
Easy to pick a little drop to enjoy and the staff are super lovely and attentive but it is the food which is making me smile the most! A long awaited little spot to enjoy some candle lit tapas and good wine. The menu is all the things I love, reasonably priced and with it being around the corner we are already planning our next trip to explore that menu further!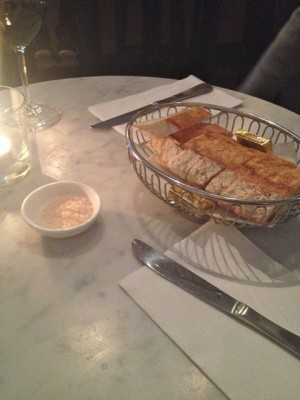 Being a total carb fiend I adore a place that puts a basket of fresh bread and soft gorgeous butter on the table as fast as your glass of wine appears – win win win!!
Main features of the menu are oysters, cheese and salumi. There is an impressive cabinet full of hanging sausage and I can't go past the salumi platter with a selection of the cabinets finest offering, cut fresh on the impressive hand operated shiny meat slicer. Think Berkshire Casalingo Salami, Bresaola, Ossocollo, prosciutto and Jamon Iberico!! Oh yes! And a few lovely almonds and some addictive pickled green tomatoes or 'Giardiniera Pickles'.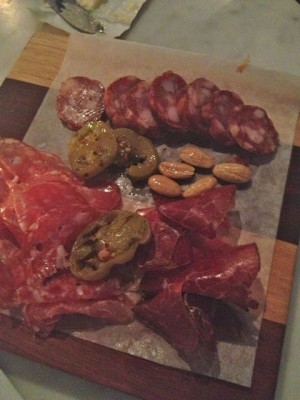 Cheese is a dream time list of Frances finest – comte, roquefort, cows, sheep and goat… hmmmm!! Choose your own or take a selection plate with fresh crusty baguette, fig, pear and muscatels.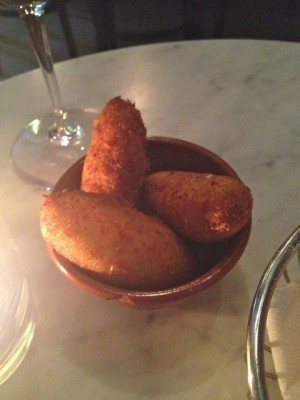 Add to the mix bar snacks with croquetas of oozy cheese and jamon… I could eat an obsene amount of these if left alone …. be glad they don't do takeaway!! There are olives, almonds, fried calamari and pommes frites! In antipasti we have potted eel, rilettes, trout and tortilla plus….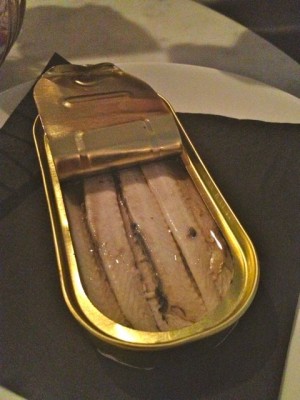 The picture can't do them justice, my hairy little fish! To quote me friend, there are two types of anchovies available;
'Dirty' – Pujado Solano Cantabric in Olive oil
'Not dirty'- Spanish white marinated in vinegar
Personally I would take one of each, teamed with the fresh sliced baguette and butter and a little salt and there are some worrying noises coming from team anchovy!!!
We haven't made it to mains as yet but I am totally up for Borlotti bean soup, Goat Cheese Tart, Vitello tonnato, spaghetti and meatballs and my husbands ultimate craving Steak and Pomme Frites!
Will be back for those very soon!