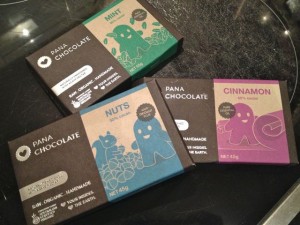 A few years ago the words Raw. Organic. Handmade. Teamed with chocolate would not have appealed but with my new found love for less sugar and confectionary I have found a soulmate with Pana Choccies!
Crafted in my hometown Melbourne and "with the vision that the chocolate should be good for everyone" these cute paper wrapped little bars are packing a real punch in flavour. The chocolate smells divine when you open it, a little bar because this chocolate is so rich you only need a little quare or two to keep you going.
The flavours available can take you anywhere – Coconut and Goji, Orange, Cinnamon, Rose, new Sour Cherry and Vanilla and the not so common Blue-green algae!!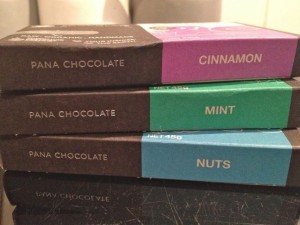 My personal fave – Orange, no Mint, no Coconut…. hell – lets just have a different one each day!
Check out more from the guys at Pana at www.panachocolate.com