Hurrah Chingon Cantina y Taqueria is open for lunch and you can get "Handmade soft corn tortilla tacos 4 for $20". With 6 to choose from… hell have one of each and share a bite or two each!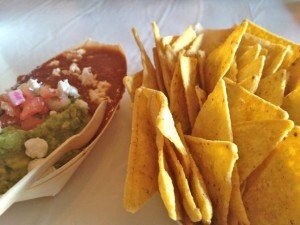 Hmmmmmm made to order guacamole, fire roasted salsa 'Mexicana' and warm tortilla chips – give me more now!! But you know what happens when you fill up too much on the chippies and dip! So onto business! We order one of each taco so we can try them all (insert evil laugh!!).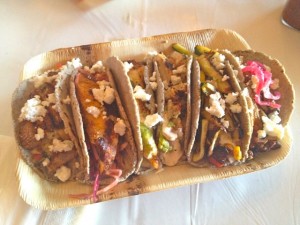 They are pretty generous serving and they don't skimp on the filling and that lovely feta! The 'Al Pastor' is my absolute favourite – Chargrilled achiote pork, grilled pineapple and capsicum salsa and feta. Love that spicy pork and hit of sweet pineapple AMAZING!!
The 'Carne Asada' is fabuloso! Charcoal steak, black beans, fire roasted tomato and corn salsa and feta
The 'De Pascado' Flame grilled fish, fresh lime, red cabbage salsa, chipotle crema and feta is sublime with heaps of tender fish that is so fresh and I love that chipotle crema yum yum yum!!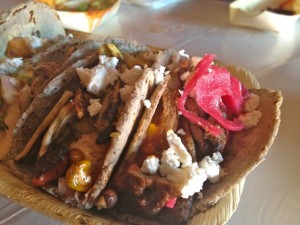 The 'De Pollo' is sweet and sticky with orange and honey charcoal chicken, guacamole, salsa Mexicana and feta. The 'De Camarones' wasn't my favourite – Marinated prawns, chipotle crema, avocado, fresh lime and feta. It was nice but with so many flavours going on this poor fella couldn't stand out!!
And finally for the non meat-eaters 'De Calabacitas' Charcoal roasted corn, capsicum and baby squash, guacamole, salsa and that wonderful salty feta – happy happy days!!
Service is great, atmosphere is great and I bet on an evening this is full to the brim with happy taco munching peeps!