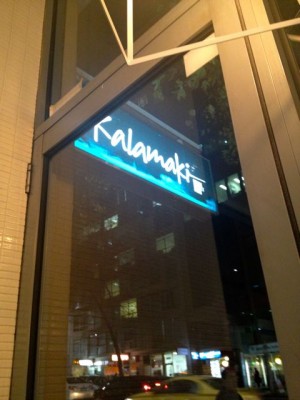 Welcome to Kalamaki Greek Street Food! Makes a nice change from Tacos!!
I recommend you hit up the website for more mouthwatering pics, they have done a great job – click here! I love Greek food, I love that it comes from family and sharing and seasons and the boys here have got a great vibe going on. Claiming "simple, good quality, Greek Food" I am excited! No Greek should have white linen and pretentions it should be loud, fun and plentiful!!
So well lit, communal eating, paper mat menus and cash only ( I think that is just for now!!). Choose your poison and have a chat with the guys as the kitchen bustles away in the background! The menu has all the good stuff – souvlaki with pita enjoy Sheftalies, Kefte, Slow Cooked Pork and the best bit…. the chips are inside!! Apparently that rocks my husbands world!!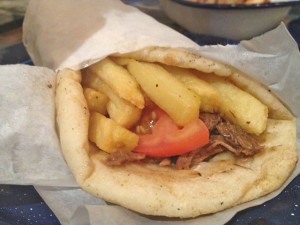 There are a plethera of dips and sides, Taramosalata, Melitzanosalata, Tirokafteri, Saganaki, Cypriot haloumi…. drooooll!!! It is a real test of restraint not to order enough for a small family meze and thats just the start!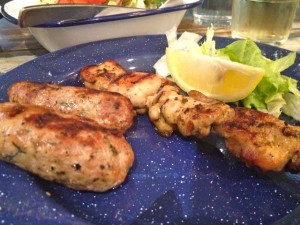 There are still the namesake Kalamaki Skewers with Chicken, Pork or Sheftalies, salads to balance out a touch and an excellent authentic beverages list!! Ouzo, Retsina and Raki! AND on the counter you might find a little homemade baklava awaiting you!!