Pizza, Pizza, Pizza…….. I LOVE PIZZA!! My guilty pleasure, my comfort, my can't be bothered to cook and some nights my salvation!! (teamed with a bottle of wine and a movie and it's a perfect night!). We have explored many a delivery option in South Melbourne and now with the advent of online ordering it is even better! No more trying to order a margerita pizza with no sliced tomato, extra mushrooms, capsicum and a half half veggie with pineapple…. nope just tap away on any decent online order site, pay and wait for the door bell!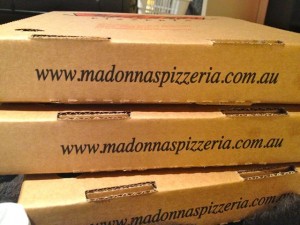 I have been a long time fan of Crust, though I seem to spend a lot on good old dough and cheese! Our local Wiseguys has been a big favourite until they started charging for delivery…. ok I could walk around and get it but that is not the point!! And no Menulog has introduced me to the lovely Madonna's Pizzeria.
Order online and piping hot, delicious pizza delivered super quick! Pizza, Pasta, gnocchi and salad – the menu is packed with mouth watering dishes to choose from. But I like pizza and I like it pretty simple!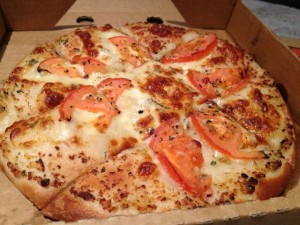 'Focaccia Di Casa' – baked fresh to order with a base of olive oil, garlic & fresh herbs. For an extra $2 you have to get extra topping of 'Fresh Tomato & Fiore Di Latte Cheese' – $8 of delish!!!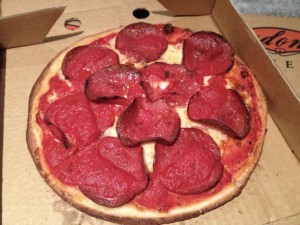 Hmmmm pepperoni – tomato, mozzarella & hot salami. One for my husband… who just looked up in delight at my screen and exclaimed "Are we getting pizza?!" Sadly, no not tonight!! Pepperoni, looks a little scary in the picture but tasted soooooo good! Madonna's pizzas have a great thin crust and just the right amount of toppings – no slathered or heaving with heavy cheese etc.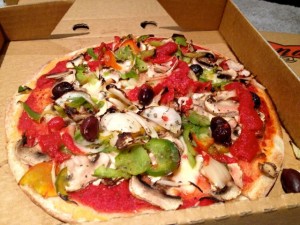 Yummo!! Vegetarian – tomato, mozzarella, mushroom, capsicum, onion, olives, garlic, oregano & fresh parsley. Pretty perfect really! Loved, loved, loved! Bit of pineapple and I would have struggled sharing this one!!
Fast, fresh and fabulous… might have to pop in and see the real thing very soon! Port Melbourne here we come!!