I can't believe I have never blogged about Chinta Blues! It is one of my favourite, go to, BYO haunts especially when we used to have a gig on at the The Prince Bandroom and wanted something fast, tasty and easy on the hip pocket!
The menu doesn't change much and good job as there are old favourites on there as well as dishes I always want to order! Curry, noodles, roti, soup … it's all the good stuff and it is all here!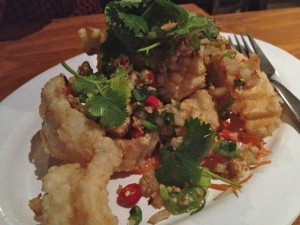 My absolute favourite dish! Salt and Pepper Calamari with heaps of chilli and garlic… heaven!! I dream about this dish! I am drooling right now!! The calamari is always super fresh and tender, not greasy and oooohhhhhh drrrroooolllll!!
So very very good!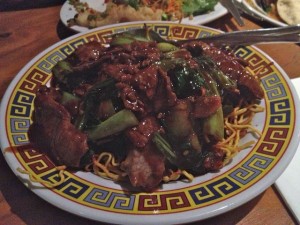 Crispy beef noodles – so simple, traditional and so bloody tasty! Perfectly cooked, melt in the mouth beef with bok choy and that sauce – just so tasty! Mega crispy noodles and happy days!
Just a quick visit tonight before we skip off into the night but we will be back and we will get better pictures!!
YUM!