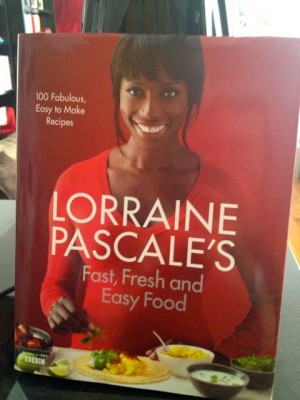 Lorraine Pascale – Fast, Fresh & Easy Food

From Model to TV Chef Lorraine offers easy and effective cooking that will wow your socks off!!
Recipe 7 – Really Simple Sri Lankan chicken curry with coconut milk and cashew nut rice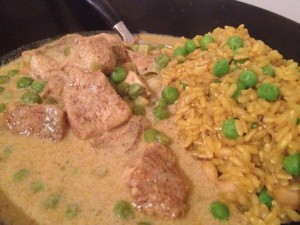 Loved loved loved! Didn't quite look like the picture and my curry powder was a bit weak but super easy and LOVED the rice, the sweetness of the cashews was a perfect balance to the heat of the chilli and creaminess of the coconut milk. YUM!
Recipe 6 – Sweet & Sour Pork Balls with crunchy peanut rice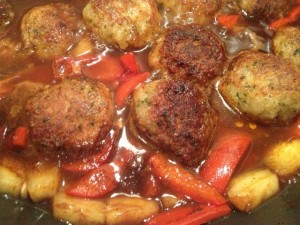 WOWOWOWOWOWOWOWOWOWOW – ok not the healthiest of ingredients and the fat that came out of the pork sausage balls was biblical BUT it tasted fantastic!!! The perfect balance of sweet and sour and the meatballs were amazing!! I used panko instead of normal breadcrumbs and I swear it made them fluffier!! Those jars of gluggy red sauce have nothing on this and at least you know what is going into it!!
Recipe 5 – Five-spice roasted duck breasts with cherry & shiraz sauce & sesame noodles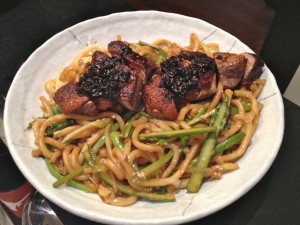 WOW! Hokkien noodles are my new fave – so quick just warm through and with the sesame dressing these are winning!! The duck was super easy, I love 5 spice and the sauce, though I used Pinot – was stunning! So clever and makes me look like a domestic goddess with this little something I rustled up!!
Recipe 4 – Scrumptious spicy chicken fajitas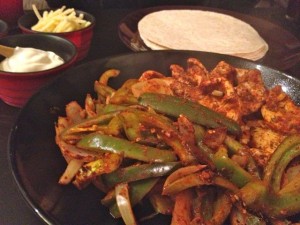 Ok we get it – it is fast and fresh!! This is such an easy recipe, just a few perfectly mixed herbs and a sneaky jalapeno and this was jsut such a great dish! Perfection!!
So much fun and the food at the end is bloody great!! Skinny dips – we tried the Avocado, chilli & chive dip which I loved! Can't get enough of avocado at the moment!!
The Tuna & Creme Fraiche was brilliant! Hubby is still talking about how good it was! Might need to drain my tuna a bit next time as we were a bit runny but it was a great way to enjoy a bit of Omega 3!
Recipe 2 – Vegetarian Mushroom & Port 'faux gras' with tarragon and chestmuts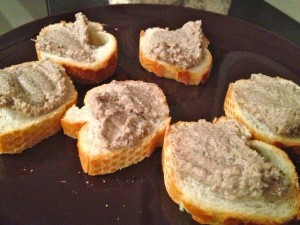 So clever! I love pate, I have never tried Fois Gras which I imagine it is similar… kinda!! Anyway the healthy, fast and fresh version is with mushrooms!! Yummo!! Ok I didn't have port so we used red wine, I didn't have fresh tarragon and completely missed out on chestnuts but it was still AMAZING!!
Recipe 1 – Aussie Sweetcorn breakfast fritters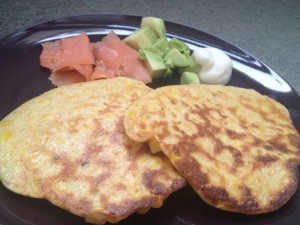 WOW – simple, fast and taste amazing!! I have tried a few different recipes for corn fritters and this is definitely my new favourite! Serve with smoked trout, sour cream and avocado for a super healthy breakie!