Huge fan of Bangpop and chef Kam McManamey – the man bringing the heat into the kitchen and I can definitely stand it!!… bit cheesey apologies!!
See Kam cooking a wonderful Pork neck salad by clicking here and we even have the recipe below so you can make this at home!
Kor Moo Yang
4×100 gm pork neck fillet per person (share/entree portion)
2 bunches of picked and washed mint leaves
4x spring onions washed and finely chopped
——–
Pork marinade;
50ml x fish sauce
30 gm x palm sugar
1 pounded Garlic
1 crushed coriander root
1/4 teaspoon white pepper crushed
marinate @ least 3 hrs
Pork dressing;
20 ml fish sauce
30 ml lime juice
1 pinch caster sugar
1 T roast brown rice
½ t dry chilli flakes
Grill, bbq or pan fry your marinated pork fillets to just under medium.
Rest for 10 minutes in a warm place.
Combine all the other ingredients in a bowl.
Toss through the sliced pork and serve.
**************************************************************
Published April 12, 2013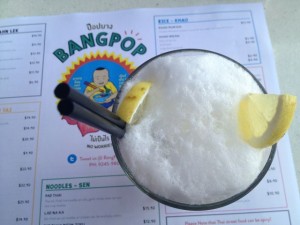 Feelin' Hot Hot Hot! Chilli lovers unite on the church of Bangpop!
The old Sharing House has gone and any sadness I had was quickly whisked away in a wave of cocktails and chilli!
The fit out is fun! Bright, clean and different! Bikes line the river walk and entrance, communal tables provide the alter at which the many sharing plates are offered for a very welcome sacrifice….. Ok this is getting weird!! Look BangPop Rocks, that is the overwhelming point!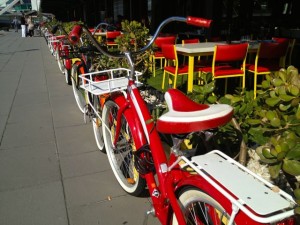 Lots of dishes to share, Salads, Curries, Noodles, crackers – it's all here and it is all packing some real heat! It's all fair, they warn you this is Thai Street Food – it's true to it's roots and it can be spicy! And it is, I love a good chilli slap and there are some great ones here! But be warned if you don't like the heat – tell the kitchen because you have been Warned!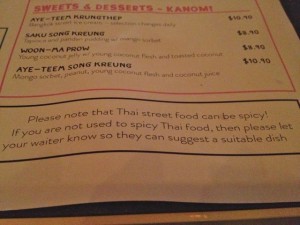 We went on two occasions with a few people so we have had a great chance to sample lots of the dishes! Lucky us! So first up – Sausage! A long time British fave the humble banger has gone off the chart with it's Thai counterpart Sai Krok Isaan – grab a slice of spicy pork teamed with ginger and clasped with your piece of cabbage for a world of flavours! Equally rockin is the chargrilled pork neck with a smashing chilli dipping sauce, the nam jim saap is gooood!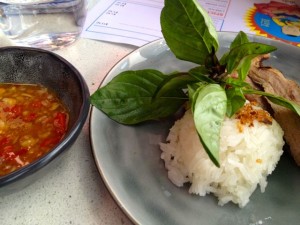 Marinated fried chicken ribs are packed with substantial meat and the nam jim spikes up the marinade flavours to another level! Even the humble cracker is given a life with the fried rice crackers and nam prik-ta-krai, a big bowl of these and a beer and that is a good start to a Friday night!
Larger plates feature your pad thai, not my favourite – not sure if I have been too used to the Westernised version? But you are given additional condiments to 'pimp' your dish! Extra Fish sauce, chilli flakes, chilli oil and sugar are on hand if you want to try to balance your dish to your preference. I wonder if they are placing a little bit too much faith in the average palate to know what they are missing without destroying their dish in their experiment!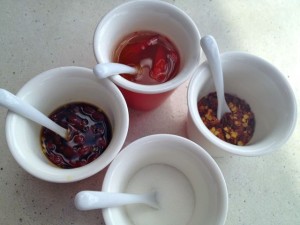 Stir fries sound fresh and flavourful, Soups to warm your bones and the curries are to die for! Penang Beef, Duck Red and Fish Yellow you are in for a wonderful treat with slow braised meats that fall apart into their spicy, rich, luxurious saucy bath! LOVE!!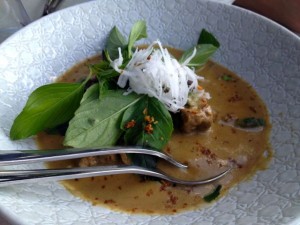 Our Duck special salad was a diva! Crispy skinned duck rocking the town with young bamboo and thai herbs and a handsome serve of little hot red chillies! Even I had to bow out and push a few to the side they were supercharged that day!! I would love to see how many chillis are coming into the kitchen at delivery time!!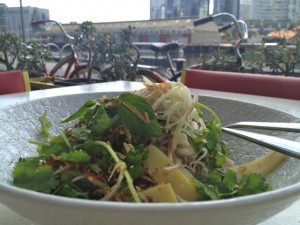 Cocktails get a special mention, my new favourite Ginpop is refreshing and fun with almost a sherbert fizz! My only problem is they seem to evaporate quite quickly!!! Thai Bloody Mary with the obligatory red chilli and a good sprinkle of pepper was hubby absolute 'cup of tea' and they are made with a smile from the wonderful telepathic mixologist behind the big open bar!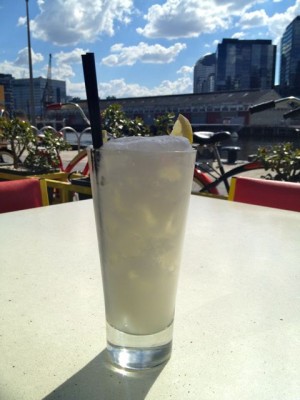 I cannot recommend Bangpop enough for those that enjoy sharing, chilli, cocktails and awesome food! The staff are fab, helpful and great at guiding you through the menu, the atmos is fun and relaxed and the food…. Oh the food!!
See you soon or please start delivering!
xxx