It's been a while since the make over and the New Circa was launched to the masses with a less formal approach to dining and more of a take on street food with a high end edge. It's sharing food but with starchy white napkins!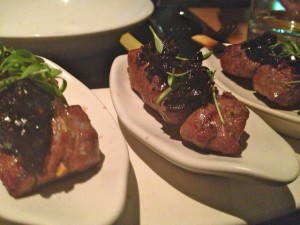 The menu is packed with Yakitori, Global Street Food and dishes from the Robata Wood BBQ. The Grill serves up Flinder's Island lamb with Sichuan eggplant, Mountain peppered wallaby with quandong caramel and Peanut crusted tuna w. satay sauce.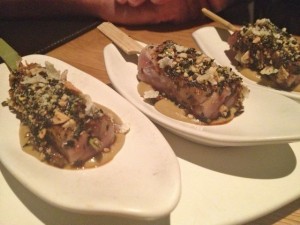 At $9 a pop this is a pricy mouthful but is it delicious and you can tell the quality of the produce is the best of the best!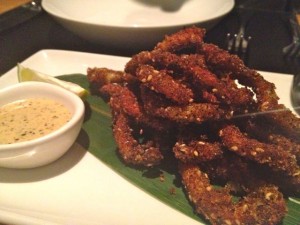 Rice cracker crusted spicy calamari with seaweed aioli – nice enough, lovely fresh calamari with subtle flavours.
Sticky pork buns with green mango and Vietnamese herbs, love those little light pillows and then a cheeky piece of pork belly and a sweet slice of Mango. Teamed with the Vietnamese coleslaw with Asian pears and crispy shallots this is a great combo. The coleslaw was heart wrenchingly packed with freshness and flavour!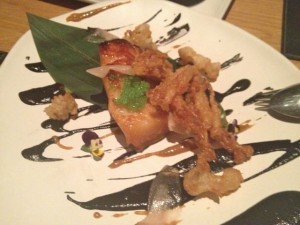 The Wild Barramundi with young ginger, wild mushrooms, oak infused soy and shiitake broth comes in a $40, it's not substantial in size but it packs a punch with flavour. Perfectly flaking fish with crispy shitake – just fabulous!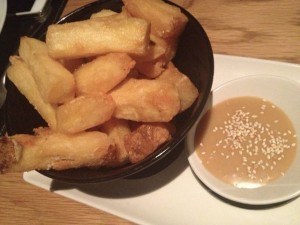 Just add Triple cooked chips with sesame mayo for the most extravagant fish and chips around! YUM!
Not somewhere you might pop in every week and with a price tag that the average punter would call a treat but it was fun, especially the Expresso Martini's in the bar afterwards!