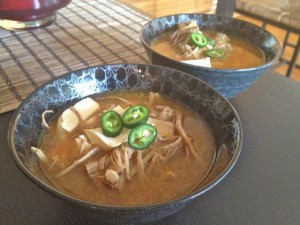 Spicy Beef and Tofu Soup
Ingredients;
A big wedge of beef fillet – depends how many you are cooking for but average 150grams per person (keep the beef whole)
Mustard
Paprika
Garlic
Stock
Green Fresh
Silken Tofu
Method;
Brown your beef on all sides and then put straight into the slow cooker!
Add a table spoon of english mustard, tablespoon of paprika, a garlic clove and then cover the whole thing with stock.
Lind on and see you in 4 hours on high or until meat fall apart. To finish add cubes of silken tofu and warm through for 20 mins and then serve!
YUM!