Take me home to Greece! Just up from the beach at Albert Park is a little piece of Mediterranean heaven. Decoration is a lovely balance of a greek Taverna without feeling OTT or cheesey! The staff are lovely and welcoming and they have Brown Brothers Prosecco by the glass!
The menu is fresh and fantastic classic Greek with all the faves, dips, calamari, moussaka and saganaki! I love that salt and pepper comes with a lemon ready to squeeze!
There is a really nice buzz about the place with plenty of happy groups of friends and family enjoying hearty plates of grilled meats and fish and some of the best dips I have ever had!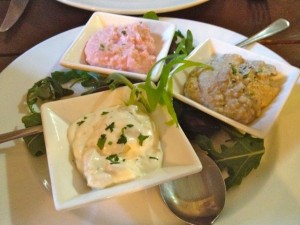 Super fresh taramosalata, baba ganoush and tzatziki with a basket full or different warmed breads – heaven!!!
For mains I ordered the 'Kalamaraki Pikantiko' – grilled calamari, olives, and salsa…. it's huge!!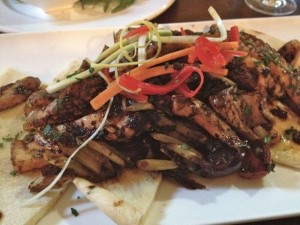 The most succulent perfect calamari, so fresh and the perfect bite to it – no rubber bands in sight! The dressing was not something I had had before and it was a refreshing change from fried calamari. The balsamic and olives gave a real lift to the dish and with bread and those gorgeous herby Greek roast potatoes … I wish I could have eaten it all!!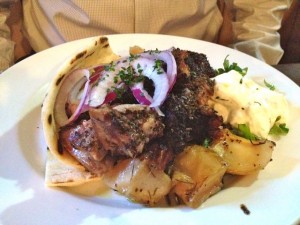 The Kebab Lover is in heaven with the Gyros – Spit roast lamb with tzatziki, pitta and salad! Happily tearing bread and loading it with gorgeous, succulent lamb – such incredible flavour!
It is happy times all around at Stavros – there is a reason they have been there for a loooong time! Be will be back for baklava very soon!
xxxxx