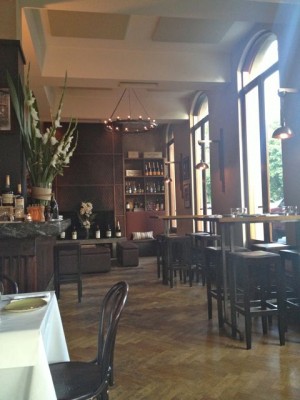 Quite possibly one of the best meals I have had in a long time! Ok there has been a diet going on so we were desperate for a treat but this place had it all going on! Great wine list, especially by the glass. Wonderful staff especially the lovely Marcelle. Big, droolworthy menu and the food is magnifique!!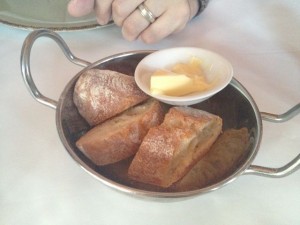 I love bread and I have missed it so this warmed crusty baguette with salty, soft butter…. rock my world! It's a great start! A glass of Nigl Gruner Veltliner is quickly delivered and Marcelle runs us through the plentiful specials on offer and offers helpful advice and obviously has great passion for wine and food.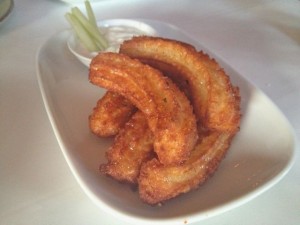 Spiced cheese churros, grated celery and yoghurt – I would go as far to say that this is the dish of the year!! They were soooooooo good! Crispy, cheese, spicy…. I could be addicted!!
Our Special yellow fin tuna 'petite' is a delicate mouthful of fresh, gorgeous tuna with the crunch of a little toast and the perfect pistachio and citrus…. sensational!!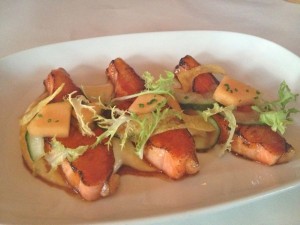 My 'Petuna ocean trout a la plancha, spiced cucumber, melon and fresh horseradish aioli' is not only pretty but incredibly yummy! It's a generous portion of melt in the mouth tuna with sweet melon, crunch from a little crisp and the horseradish aioli…… take me home!! Just fabulous!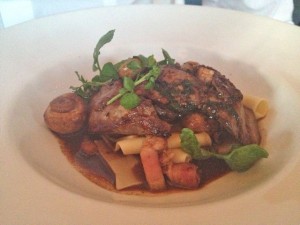 Hubbies 'Piccata of chicken livers, fresh pappardelle, balsamic and watercress' is not my sort of dish but there was a practically licked plate at the end so another winner! And both dishes went perfectly with a glass of 2010 Santa Barbara 'La Vaglie' Verdicchio – a wine i have never tried but would love to again!
Mains are a generous selection of steak, fish, spatchcock and rabbit amongst much more! But I cann't go past the Hopkins River Pure Black Angus Beef Porterhouse with 3 sauces – churrasco, Gitan dressing of mustard and anchovy and horseradish – heaven! Some skinny fries and this is one happy lady who has broken her diet but it was totally worth it!
Hubbies Pot de Feu is a rustic bowl of a sort of corned beef with veggies and horseradish cream…. melt in the mouth tender and so flavourful!
It is seriously happy days all the way at Bistro Gitan, and the bill doesn't hurt too much either!
Coming back for dessert and cheese very soon!
xxxx