Some fridays you just need a good burger from your local!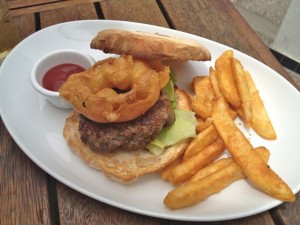 And she's a beauty! Less the bacon and egg – those are for breakie!! This is a damn fine burger! Packed full of herbs and flavour it was a winner! The onion ring was impressive but not my thing, chips were damn fine!
See you next time we need a Friday burger!
The High Street Beef Burger with prime black angus beef with cheese, fried egg, crispy onion ring, bacon, cos and beer battered fries
*********************************************************************
Previously published 14th October 2011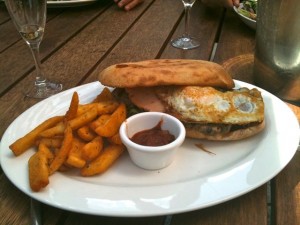 Quite possibly the best steak sandwich ever!
It's a beautiful sunny afternoon – perfect Friday pub lunch weather and the Skinny Dog pub has a great outdoor area – we set ourselves up at one of the tables and the choices are tough!
Parma or steak sandwich? It's a steak sandwich kinda day!
A generous plate with some fantastic looking fries, crispy, hot, soft centred with a dusting of herbs, I should have got salad but I am glad I didn't !!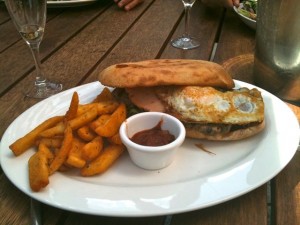 There is a tangy, sweet chutney on the side and the rest of the plate is sanger-ed up! Toasted fresh turkish rolls filled with a good size piece of steak, fried egg, bacon and salad – it is a man size portion of wonderful-ness! The meat is just right, not chewy or stringy just packed full of flavour and you bite straight through – thoroughly enjoyable!