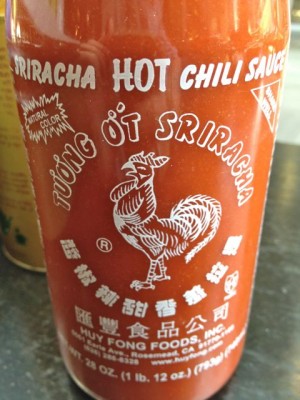 Queuing out the doors most days and with more stores popping up around Melbourne the rice paper roll, Banh Mi and Pho train is well and truly rolling!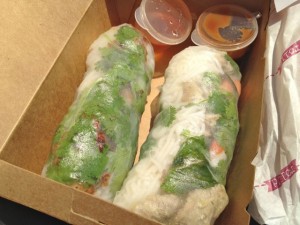 Offering Rice paper rolls with mouth watering lemongrass pork & prawn, soft shell crab & avocado, tofu or BBQ chicken you can just see a sea of people ordering and consuming these gorgeous treats!! Our lemongrass pork & prawn and soft shell crab & avocado were gorgeous!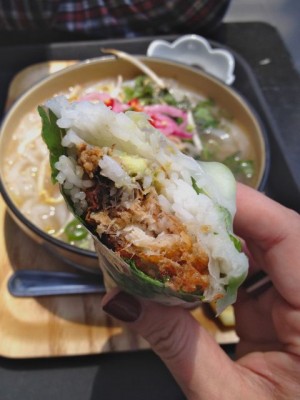 You can get traditional vietnamese noodle slads packed with vermichelli, veggies and a protein similar to the rice paper rolls. But is it the Banh Mi that I am craving! This Vietnamese fast food, lunch on the go, street food is a team up with the French influence of a crusty wonderful baguette with pate, roast pork, carrot, coriander and chilli etc. You can get the traditional roast pork or BBQ chicken or just salad without the good stuff!! I'll be honest and quote my friend "It's just a big carrot roll – the breads nice though" I wasn't convinced we had pate in ours and there wasn't much pork to be found… or any of those classic Vietnamese flavours like the chilli, coriander etc.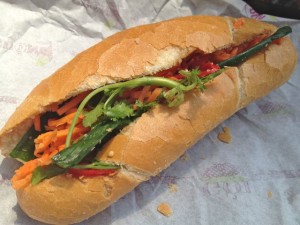 Good old Pho (Fur!!) comes in beef of chicken or mixed! The beef had a lot of lovely flavour and was fresh and really good but the Pho lacked a bit of a punch for me…. I am a big fan of Victoria Street and their chilli!!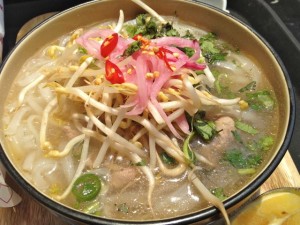 This is a great spot for lucky woorkers nearby looking for something more exciting than a sad old cheese sandwich – I would be happy with the rice paper rolls any day…. well everyday!!!