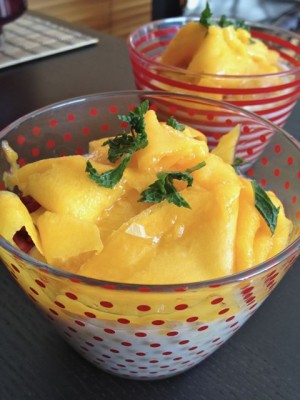 I find breakfast such a challenge… at least during the week when it is a debate between toast and another 5 min snooze!! Weekends I can eat breakfast like a queen… well brunch!
This is a play on good old bircher and is probably not really a trifle but is was full of fab fruit layers!!
Ingredients;
1 Cup oats
Fruit Juice – approx 1 cup – can use apple, orange probably not tomato!!
Fruits – mango, blueberries, raspberries, ripe banana
Fresh Miny
Sqeeze of lime juice
Method;
Night before – place oats in a bowl and pour over your choice of juice until just covered.
That morning – mash ripe banana with a fork and then mix in your blueberries and the oats and juice mix = Layer one! Spoon into bottom of glass or bowl.
Mash raspberries roughly and spoon over as your next layer.
Take mango and using a potato peeler remove skin and then use the peeler to create ribbons of lovely juicy mango! I felt like a bit if a genius doing this, why had no one ever told me!! So much easier!!
Drape your mango ribbons artistically!
Sprinkle with a squeeze of line and some chopped up mint!
GORGEOUS!!