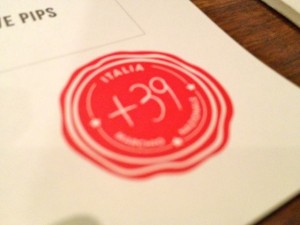 I had heard great things about +39 Pizzeria and was so happy when I rang and they do take bookings! On a gorgeous sunny Friday evening we headed over to the bustling pizza spot and it looked fatastic with all the front doors open and the tables packed full of people enjoying the end of the week over a little wine and Italian fun!
Our table wasn't quite ready when we got there and there was an awkward stand in the doorway as more people turned up for booknigs or to see if they could grab a table.. No chance!!! But after a while we were whisked away to our table and were all ready for some pizza!
The menu is a good mix of Italian classics and wonderful pizzas, the atmosphere is loaded with Italian confidence and a happy crowd, service is a bit hap-hazard but they are busy! We had to as ka few times for four water glasses but the wine arrived quick!!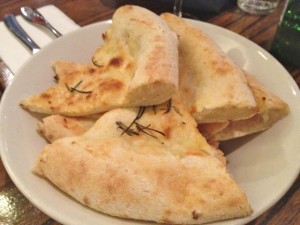 A bowl of pizza bread arrived too – just a basic herb pizza base cut into triangles …. We hadn't ordered so we assumed it was complimentary …. Pretty disappointed it ended up on the bill at the end of the night – poor form!
Orders were quickly taken and they started arriving pretty quick, there was some confusion over whose pizzas were for which table, I think one floated around a few before it found a home!!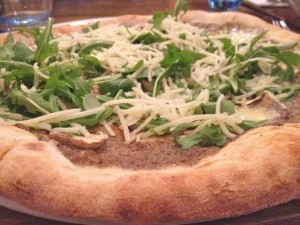 My 'Tartufata' Cream of mushrooms, Fior Di Latte, mushrooms, rocket, truffle oil & parmesan was really good, heaps of mushroom flavour and thoroughly enjoyed.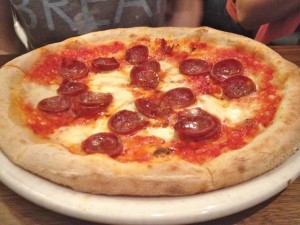 The 'DIAVOLA – Italian tomato salsa, Fior Di Latte, hot salame & chilli' was good, nicely melted and a good level of topping and spicy sausage!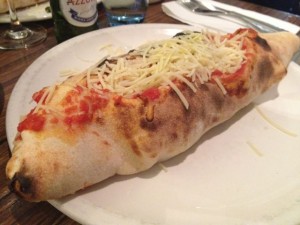 Calzone didn't go down so well, described by my friend as doughy, dry and missing some tomato sauce to bring it all together!
We ordered two sides 'INSALATA MISTA Rocket, cherry tomatoes and parmesan' and 'ROMAN CHIPS Homemade potato chips with parmesan & cracked pepper'. They didn't arrive with the pizzas, so we asked the guys to check on them and the salad arrived half way through and then the Homemade Chips with parmesan and cracked black pepper finally arrived when we were on the last slice…. They were really disappointing! Greasy chips with a bit of parmesan on top and no pepper to be seen.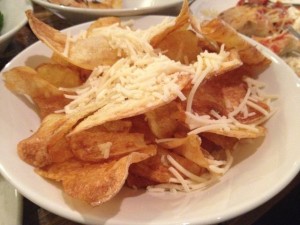 The parmesan was a bit of a theme through this dinner it seemed to be from a bag of pre-grated, everything was scattered with these big, cold, hard slithers that missed that wonderful freshly grated flutty, melted joy! On my pizza it was ok, I would have preferred freshly grated and melted, on the salad it was odd and not so great and on the crisps it was pointless! Surely anyone who loves parmesan would always grate fresh?
Anyways, we didn't order dessert, they did take the 'Chips' off the bill as they were so late but they did charge us for the bread we didn't order….. We decided not to bother arguing and just didn't leave a tip instead.
Would we rush back… probably not!