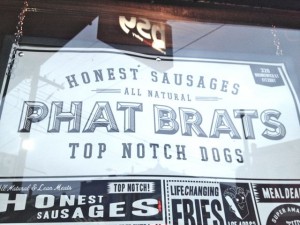 The Menu is jam packed full of fun and flavour! 'Top Notch Honest Sausages'! So many good choices, plus fries for all tastes! Seasoned Fries, Chilli fries, BBQ Bacon fries and … peas and gravy fries!! The poms will love that one!
There are Virgin Deals, Brewski deals, phatta brats, naked dogs, potato salad and slaw but we want a dawg!!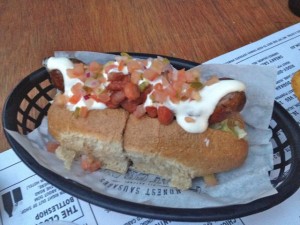 Spicy Chorizo – Spicy Spanish Pork Sausage with pinto beans, lettuce, sour cream and jalapeno tomato salsa WOWSA!! Sooo good! Great sausage, would expect nothing less! Fresh and fabulous!
Life Changing Fries – we opted for the house fries with seasoning and they were pretty life changing… I had this huge urge to come and live in Fitzroy!!!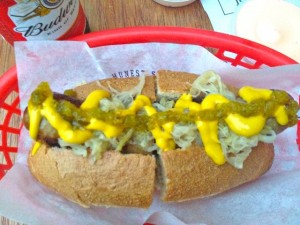 And the Beer Soaked Bratwurst – Local Beer Soaked Brat Sausage with sauteed onions, souerkraut bavarian mustard and green pickle relish….. words cannot describe how wonderful this experience was! Meaty sausage – Good! Tangy Sauerkrout – Good! Sweet Relish – Good!! (anyone else remember Joey from friends!!??).
Overall it's a happy sausage heaven!!