The Newmarket Hotel has been super popular since it first opened its doors and it has proved to be no flash in the pan with word of mouth and recommendations flowing ever since. It a big, airy, light space with a great atmos and easy going style.
The menu is modern Mexican with tacos, guac, slow cooked ribs and sharing food a plenty!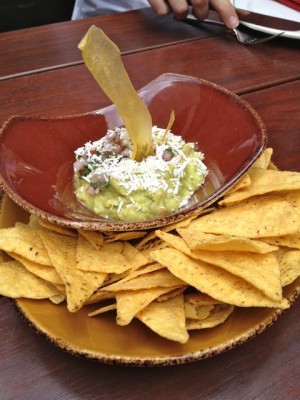 I love Mexican food and I adore a good guacamole, shame on you if you ever buy that store bought rubbish! You cannot beat a good, fresh, actually met an avocado version!! Newmarkets Guacamole with pineapple salsa is a bargain at $5 a pop! It is definitely fresh, certainly tasty and a perfect friend to a couple of cold beers!
We are sharing a few dishes between a few of us and it's only lunch so we aren't going crazy, a few tacos and some ribs and we are set!! We order a few dishes to be going on with and though there is a little up-selling going on to try and get us to get a bit more… I think two people can easily share a taco if they like each other enough!!
The waiter did recommend that we all get our own serve if 'XL St Louis style pork ribs, Mr Wilson's BBQ sauce & apple slaw' At $16 each I expected something a little more substantial!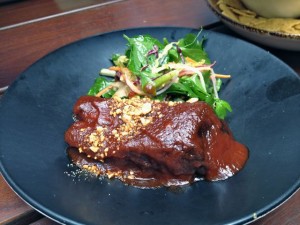 It is beautifully cooked but at the end of the day it is a single rib for $16….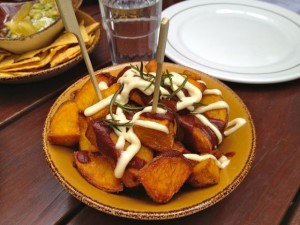 But back on track with the Bravas potatoes with 2 sauces $9 and flipping fabulous!! The fresh rosemary and sauces make this a carbo happy dish and we loved them!!
So Taco time! I have to admit I went back to the pictures and I am not sure which was which but they were all fabulous and we shared and loved them all!!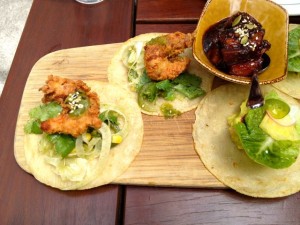 Soft taco with prawns, fragrant herbs & jicama slaw $8 each
Soft shell crab taco, guacamole, shaved fennel, spicy corn & tomatillo salsa $8.5 each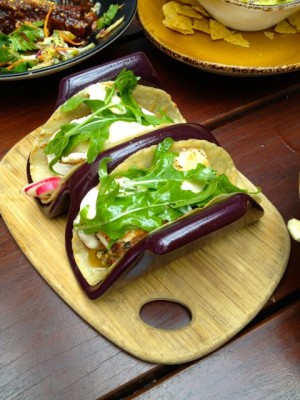 Soft taco with pork carnitas, baby gem, pickled pineapple & hot adobe sauce $8 each
Grilled snapper taco, heirloom tomatoes, rocket & new season garlic aiolis $8 each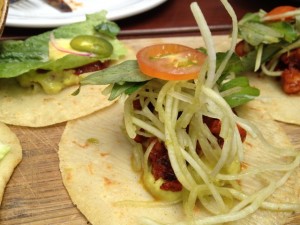 So at $8 a pop you can certainly run up a bill pretty quick but they are great and reasonable size so definitely a good one between two so you can try and few different ones!
Great place to spend an afternoon over some good wines and beers and great tacos!!