With an interesting history of a 'gentlemans' watering hole previously occupying this space Epocha couldn't be any more different… well the servers wears tops so there's a start!! The space is an old terrace conversion with a modern homely feel and a couple of trolleys taking cheese and desserts to tables!
The menu is vast and relatively wintery for the start of summer but there is plenty to choose from and we are a big group happy to share! I love it when I get handed the menu and told to order for everyone!!
The menu is all about sharing with various sized dishes to graze through over some good wines, Snacks include spiced chickpeas, pigs ears and mini crumpets!
Complimentary home baked blackbread appeared in a little bag which was cute and a bit odd, two pieces to break between us and some wonderful butter!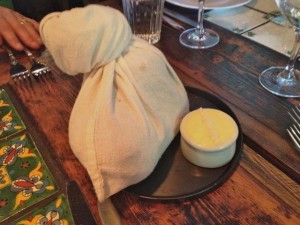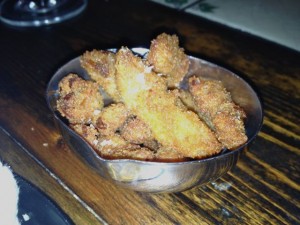 Apologies my photos were a bit rubbish for this one so not much we can do! But these are duck tongues! Crispy fried duck tongues, I am all about using every part of the animal and I will try anything once but these were not for me!! They tasted like wet dog smells!!! Oh well!!
Jamon and fior di latte croquettes were gorgeous and so were the Mushroom arancini – super smooth, creamy and that kind of comforting wonderful dish you want to just take home a whole load to enjoy!!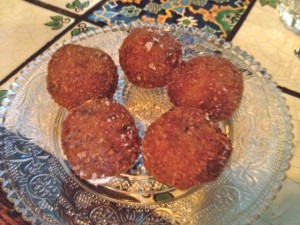 Gravlaks with potato salad, apple and fennel was a great dish, wonderful and fresh and a great sized portion for everyone to share. The Lamb kalamaki smelt fabulous but the grilled lamb, pear and blue cheese didn't really work for me.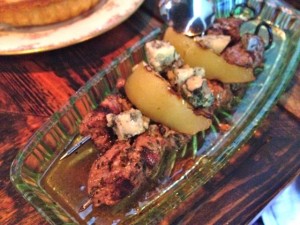 The potato, calcot and gruyere pie was more of a quiche and very lovely, we chose side dishes of creamed cauliflower and lentils with mint, peas and bacon, a maple dressed salad and roasted asparagus. Wholesome and hearty it all worked beautifully and all the plates were cleaned!!
It was all good and sadly no room for dessert on the trolley which looked amazing. Next time maybe!