I LOVE Mexican food and we have been to some pretty good ones lately especially BlueCorn in St Kilda Melbourne. The benchmark for me is always the guacamole! When we were in Texan we went to the Iron Cactus Grill where they make the guacamole in front of you and serve with homemade corn chips… we ate so much we couldn't even attempt our mains!!
So I thought I should pool together my favourite elements of a good guacamole and make some myself!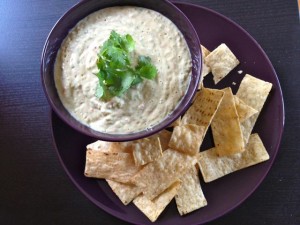 Ingredients;
One small ripe avocado (go big or add another one for a thicker style)
One jalopeno chilli
Coriander half bunch
2 Tomatoes
1 Red Onion
If you aren't in a rush you can diligently chop everything into small dice but to be honest I just checked it all on the food processor! Or you can do a good old smash up with a pestle!
Save a few coriander leaves if you want to do the whole pretty scatter on the final dish but then put your chilli, red onion and coriander stalks into the processor first – pulse a couple of times.
Then scoop out and add your avocado add coriander leaves and roughly chopped tomatoes and pulse a few more times! Have a taste and check your heat! Our jalopeno was a good spicy one so I did add a touch more coriander and a bit of yoghurt to cool it down!!
Enjoy!!