Grandly called Victorian Wine Centre I have always called it Middle park Wine Bar but nearly always gone for breakie! It's a great spot and a clever take on the cafe meets bottleshop with lovely staff, great atmos and a divine menu!!
I love the message on their website – it says it all for me!
"Owned and operated by father and son, family is at the essence of our cafe. Dad and I have shared an interest in culinary delights for many years and the VWC is an expression of that passion. Our cafe in the Middle Park Village is not only the home of food, coffee, wine, and music, it's become quite an institution in our sun kissed slice of Melbourne."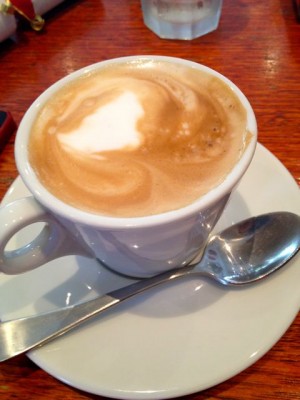 Apart from being incredibly accommodating for our little Xmas gathering (i.e. taking over half the place!!) the coffee is wonderful!! Can't go wrong when you know a place can make a fine flat white for you!! So good I had to have another!!
So breakfast / brunch is a mouthwatering affair with dishes such as banana bread with mascapone cheese & honey, muesli, porridge topped with banana, flaked almonds & a drizzle of honey! Moving on there are bigger dishes with breakfast bruschetta with goats cheese, avocado & tomato salsa on char-grilled sourdough available in ½ serve and full serve. There are buttermilk pancakes with maple syrup, double whipped cream available in plain, strawberry or choc honeycomb, french toast brioche w maple syrup & double thick cream, blt and so much more!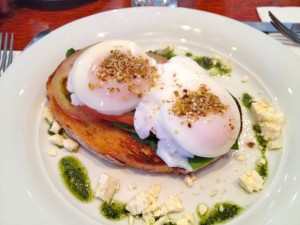 'House eggs poached eggs on toasted sourdough with tomato, feta, spinach, pesto & a sprinkle of dukkah' Sensational! Seriously a pretty perfect dish with a great meld of flavours and the most amazing eggs… check this out!!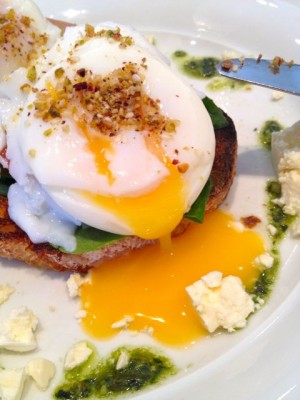 Hmmmmm it makes me want to get back there right now!!
But then I get a little food envy happening when the 'Baked eggs – ramekin oven baked eggs with chorizo, beans, & a parmesan crust' arrive……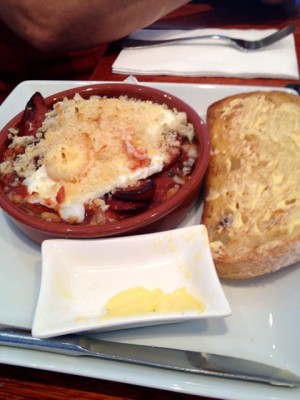 It looks AMAZING!! and smells fantastic!!
Such a great place, reliably amazing and there is a reason they have been here for as long as they have! With free tasting and happy hours plus great food and the ability to buy your wine to take home you cannot lose here!!